Clarksville, TN – As a freshman four years ago, Kristen Stainback and her teammates – including three other freshmen — went to the Ohio Valley Conference tournament, making it to the tournament's second round.
Now three years later, two seasons without a postseason appearance, and being the lone player from that quartet of freshmen to remain, Stainback wants to finish her career enjoying every moment and helping this year's teammates know how it feels to make the postseason.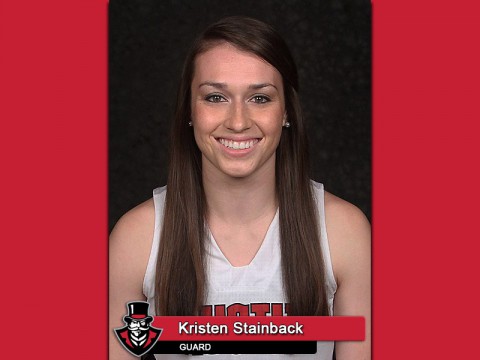 "Everybody always tells you it's going to go by real quick (the four years)," Stainback said. "But you're not really able to grasp that until you actually experience that yourself.
"It's crazy to look back, because I can remember then I first got here, so now I'm just trying to make the most of my senior year."
Stainback, a 5-foot-9 guard from Georgetown, KY, could have been joined by Shira Buley, Somalia McKenney and Shelby Olszewski as fellow seniors on this year's squad season, but none of the other three played more than two years for the Lady Govs basketball team.
"If you would have told me my freshman year that I would be the only senior left from the group that I came in with I would have been shocked," she said. "It's crazy the ways things have worked out, but I trust that everything happened the way God wanted it too.
"Not to say that I don't miss my teammates and wish that they could be standing here with me."
Now as her final campaign is underway, Stainback wants to put the disappointments of the last two years in the past.
"I want to win," she said. "I want to have a different season than we've past couple of years. They've been disappointing.
This year I just want to go out and do whatever I can to help out my team and get us some wins and to glorify God. Then I want to have fun. I don't know what I'm going to do when basketball is over, but I want to enjoy every single moment and take it for granted."
But Stainback also wants to help her teammates experience want its like being in and playing in a postseason game and earning respect from the other teams in the OVC.
"I want the other players to know what the feeling is in making the OVC tournament," she said. "Then as a program, we need to earn back some of the respect that we've lost the past couple of seasons. To be able to make it back (to the tournament) and then to surprise some people because not a lot of people are expecting much from us at all.
"So we're definitely playing from an underdog spot and sometimes that's the best place to be, because no one sees it coming. I think we're capable of making a mark."
But even with her college playing career coming to an end basketball may still be in her future.
"Ideally at this moment, I'm really looking to try to be a graduate assistant at a smaller school passably and hopefully get my masters in theology," Stainback said. "Then follow that wherever that takes me. I would love to be involved with the Fellowship of Christian Athletes is some way shape or form."