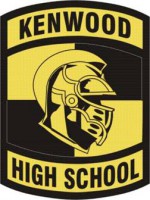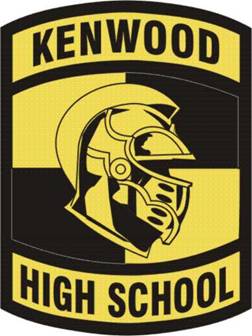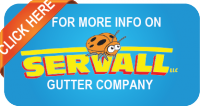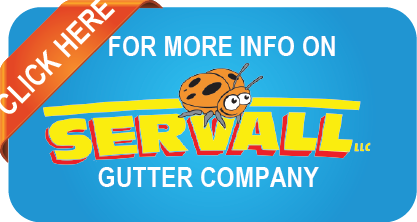 Clarksville, TN – The next chapter of the rivalry of the Peacher's Mills Road Schools was written Friday night. In that chapter the Kenwood Knights tamed the West Creek Coyotes, 66-49.
Both teams came out running and gunning in the first period, setting a fast pace where both teams scored double digit points. But when the pace slowed in the second period, the Knights offense executed in the half court while the Coyotes offense stalled. The Knights outscored the Coyotes 15-5 in the second period, taking over the game and never relinquishing control.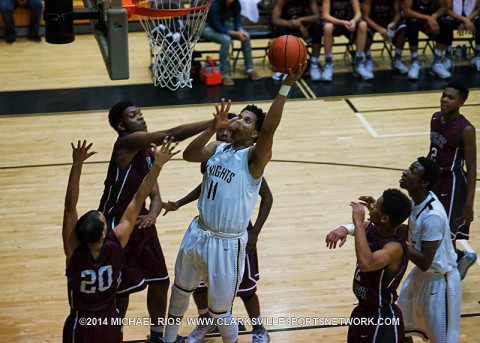 Both teams had a balanced attack, getting scores from eight different players. West Creek's James Johnson led all scorers with 20 points. Johnson scored 13 of those points in the second half.
Matthew Norl led the Knights with 17 points and seven rebounds. Tyree Boykin scored 16 and grabbed six boards.
Only four points separated the two teams after a frenetic first period. Then, the Knights opened up the second period with a 9-2 run started by Boykin. With 3:22 until halftime, West Creek's Aaron Hardison made a free throw to complete a 3-point play that ended the Knights run with the Coyotes trailing 30-22. The Coyotes failed to score in the last three minutes until halftime, opening the gap to 36-22.
The Coyote's struggles continued in the third period. Missed shots and no second chance scoring opportunities resulted in a Knights 13-2 run. With four minutes left in the third period, the Coyotes trailed by more than 20 points, 49-24.
Johnson's nine points in the fourth period helped the Coyotes outscore the Knights 16-12 in the last period, but the Knights were too far ahead for it to matter.
The Coyotes shot 10-of-16 free throws in the second half compared to the Knights 2-of-4. The Knights crashed the boards for 33 rebounds while the Coyotes grabbed 21.
The win extends the Knights (7-2) win streak to five games and they remain undefeated (4-0) in District 10-AAA competition. The Coyotes (1-11) have lost five straight and have yet to win a District 10-AAA game (0-4).
Photo Gallery
Box Score
Kenwood 66, West Creek 49
| | | | | | |
| --- | --- | --- | --- | --- | --- |
| | 1 | 2 | 3 | 4 | Final |
| Kenwood Knights | 21 | 15 | 18 | 12 | 66 |
| West Creek Coyotes | 17 | 5 | 11 | 16 | 49 |
Kenwood
Matthew Norl 17, Tyree Boykin 16, Keith Dowlen 10, Tariq James 6, Treshawn Foster 5, Kyrus Newman 4, Angel Hall 4, Andrel Clifton 4
West Creek
James Johnson 20, Aaron Hardison 10, Stacy Tindall 6, AJ Robinson 4, Tairell Fletcher 3, Demarcus Martin 2, Wayne Ames 2, Yorel Carter 2