Clarksville, TN – From the time his high school basketball playing days came to an end five years ago, Austin Peay men's basketball point guard Jeremy Purvis has had to shown a persistence, determination and sometimes even patience to keep his playing career going; and this season has been no different.
Purvis, who played locally at Northeast High School, was starter and three-point shooting specialist for the Eagles in its two trips to the TSSAA State Tournament.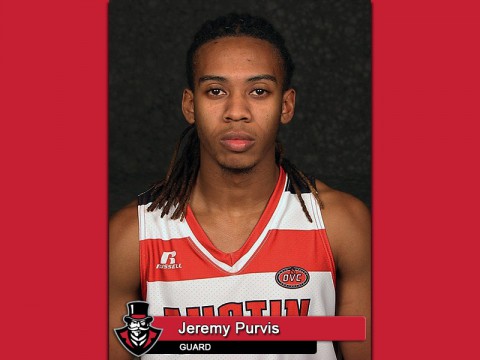 "I loved playing at Northeast and playing for coach Al Cooper," Purvis said. "He was probably one of the best high school coaches around and he taught me a lot, including things that I still use to this day, and prepared me for the next level.
"There were several very good players there and we had a great bond there then and I was very fortunate to be a part of that team."
But despite solid play, Purvis was overshadowed by then teammate and current University of Kentucky player and high school All-America player Alex Poythress; with Jackson State Community College being the only college to offer the 5-foot-10 guard a chance to continue his career.
"Honestly, I really didn't have a lot of schools looking at me coming out of high school," Purvis said. "But coach Deron Hines gave me a really good opportunity to play at Jackson State Community College and I thank him for that chance."
In his two years playing for the Generals, Purvis averaged double-figures in scoring while finishing near the top of the Tennessee Community College Athletic Association in both assists and steals.
"I felt I took advantage of my getting to play at Jackson State," he said. "It was very different from playing high school basketball to going to play at the college level.
"The game is faster, it's more physical and you have to be mentally strong to play at that level and I think that helped me to get to here (Austin Peay)."
After his two-year stint at JSCC, Purvis had a desire to return to Clarksville and play for the hometown Govs – trying out as a walk-on for the 2012-13 season – but didn't originally make the team during the October tryouts.
But two months later with then starting point guard Jerome Clyburn out due to injury and the other Governors guards struggling with turnovers, coach Dave Loos reached out and had Purvis rejoin the team in the middle to December.
In a whirlwind of just a few days of practice, Purvis' first game as a Gov found him in the starting lineup against Lipscomb University where he recorded five assists and two steals in 32 minutes of play; while suffering only one turnover.
"When I thought I wasn't going to be able to play for Austin Peay I was going to look at opportunities at other schools," Purvis said. "But it was a blessing that coach Loos asked me to come back and play. It was a dream come true.
"I always wanted to play for the hometown school and play in front of my friends and family. I think I've taken advantage of the chance."
Purvis played in 21 games overall after rejoining the team, with 12 starts, and averaged 3.2 points, 1.9 rebounds and 2.3 assist per game over that span – while only averaging 1.1 turnovers in 21 minutes per game.
"I would trying to fill a void that the team needed and do what the coaches needed me to do," Purvis said. "They (the team) was struggling with turning the ball over and I just tried to cut down on those, get the other players involved and just try to fit in."
The 2013-14 season would see Purvis on the sidelines; redshirted entire season due to personal reasons, while missing the first seven games of this season due to a Grade 3 ankle sprain suffered in the preseason.
But with guard Damarius Smith being suspended until Ohio Conference play begins and Zavion Williams suffering an knee injury a little over a week ago, Purvis – now near 100 percent healthy – has again stepped into the breach for the Govs, getting his first start since February 2nd, 2013.
"It was really frustrating being injured when the season started," Purvis said. "But at the same time I think it was a blessing in disguise being able to sit back and see my teammates play and watch and see what we needed."
Much like his first season with the Govs, Purvis has come in and played well, averaging 5.2 points and 2.4 assists in five games since coming off the injury, while averaging 1.2 turnovers in just over 27 minutes played per game.
He also knocked down a big three-point field goal in the final minutes of the contest versus Troy University, on December 15th, to help seal the victory against the Trojans.
"I'm more comfortable with coach Loos' system and I've grown as a player," Purvis said. "I just want to help the team get better and do the best that I can to help us win games."