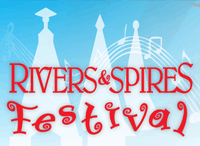 Clarksville, TN – The Rivers And Spires Festival, brought to you by Coors Light and Agero, is pleased to announce Grammy award-winning and multi-platinum selling country music superstar, Ronnie Milsap, will take the Public Square Stage on Friday, April 17th. The concert is free and open to the public.
One of the biggest and most sought-after country music artists of the 70s and 80s, Milsap will perform some of his biggest hits that have made him a legend. Songs such as "Smoky Mountain Rain", "(There's) No Gettin' Over Me", "I Wouldn't Have Missed It for the World", "Any Day Now" and "Stranger in My House" will make up a concert you don't want to miss.
Milsap's past contains no shortage of achievement, as it includes multiple wins for ACM, CMA and Grammy Awards as well as a 2014 induction into the Country Music Hall of Fame. Born nearly blind, Milsap lost all vision before his teen years and was sent to attend school in Raleigh where teachers began to notice his musical talent – especially for the piano.
After he broke big into the music scene in the early 70s, Milsap stayed at the top of the charts, earning a top 10 single annually for 20 straight years. His songs have him connected to some of the most influential writers in the music industry including Kris Kristofferson, Eddie Rabbitt, Don Gibson and Mike Reid, just to name a few.
Inspired by artists such as Ray Charles, Little Richard and Jerry Lee Lewis, Milsap has earned 40 number one hits, 35 of which reached the top spot on the Billboard chart.
"We are very excited to have Ronnie Milsap on stage at the 2015 Rivers & Spires Festival," said Jessica Goldberg, Festival Director. "The Festival this year, by far, will have the most diverse entertainment line-up and we can't wait to release more names as the weeks go by."
Presented by First Baptist Church, Contemporary Christian music group, Sanctus Real will also make a stop in Clarksville on Saturday, April 18th. On the heels of the release of their newest single, "Lay It Down", they will bring a night full of music and ministry.
No stranger to the music scene, the guys from Sanctus Real have been a regular on Contemporary Christian radio for 18 years. They have racked up plenty of accolades over their career including eight number one songs, seven top-five singles, two Grammy nominations and album sales of more than 700,000 units. Fans of Sanctus Real can catch them on the Family Fun Stage where they can hear their favorites, as well as more songs from their newest album, "Dream".
Fans of NBC's The Voice will be excited when they hear season five top-finisher, Will Champlin will be on the Public Square Stage on Saturday, April 18th. Son of rocker Bill Champlin, of legendary rock band Chicago fame, Will has gained a following of his own. Known for his songwriting skills and as a part of Adam Levine's team on The Voice, Champlin will bring his smooth vocal talent to the Rivers And Spires Festival.
The Festival also loves to show off all the local talent that makes the Clarksville community so great. Fortunately, there are several talent shows and competitions that take place over the three days. Application/auditions are being accepted for Aspire to Stardom, Last Band Standing and Step Team Competition. You can read more on how to get your shot at fame and maybe win some cash at www.riversandspires.com
This is only the beginning of the amazing weekend full of concerts and entertainment that Rivers And Spires is promising to bring. The line up is being added to daily and all those who want to stay in the know can see real time information at www.riversandspires.com
About the Rivers and Spires Festival
The Rivers & Spires Festival will be held April 16th-18th, 2015 in Downtown Clarksville. Admission and entertainment at the Festival are free and open to the public. A list of activities is available on the Festival website, www.riversandspires.com
Some of the popular events include Gig City Gaming powered by CDE Lightband, Sports Zone, Military Appreciation Area, Family Fun Zone hosted by First Baptist Church, and Arts Galore. More announcements will be made soon, as new events and entertainment are finalized.
Booths are still available for the 2015 event, as well as sponsorships. To participate in the Festival as a vendor or sponsor, contact Festival Director Jessica Goldberg at jessica@visitclarksvilletn.com . Follow us on Facebook, like us on Twitter and download our free App.