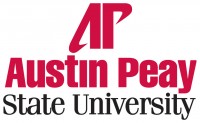 Clarksville, TN – The Austin Peay State University Department of Theatre and Dance and Center of Excellence for the Creative Arts' ninth annual Spring Dance Concert is returning this month, giving students and faculty the opportunity to present their work to the Clarksville community.
The concert is scheduled for five performances: 7:30pm, Wednesday, February 18th; 7:30pm, Thursday, February 19th; 7:30pm, Friday, February 20th; 7:30pm, Saturday, February 21st; and 2:00pm, Sunday, February 22nd. All five shows will take place in the Trahern Theatre on APSU's main campus.
Tickets are on sale now and are available online at
www.apsu.edu/theatre-dance
, in the Trahern box office or in Trahern room 227 throughout the week.
Tickets are also available one hour before the show. Tickets are $5.00 for students, military and senior citizens and $10.00 for general admission.
The event will feature choreography by APSU faculty members Brian Vernon, Marcus Hayes and Margaret Rennerfeldt, as well as alumnus Kevin Loveland.
"The theme is 'Moving Stories,' which implies that many of the dances are narrative," Rennerfeldt, an associate professor of theatre and dance at APSU, said. "In other words, the dances are not only representing concepts and ideas, but they are also telling a story."
Rennerfeldt said audience members should expect an exciting experience, as well as an opportunity to see a variety of dance styles on display.
"It's very exciting to see dance in the moment," Rennerfeldt said. "It's a very different experience than watching a video where there may be close ups or cuts to a featured performer.
"There will be a great variety of dance from the serious to funny, as well as modern to ballet," she said.
For more information on the concert, contact the APSU Department of Theatre and Dance at 931.221.6767.