Austin Peay Sports Information

Clarksville,TN – Austin Peay State University's offense was held to a season-low five hits and lost the opening game of its Ohio Valley Conference series against Jacksonville State, 8-2, Saturday night at Raymond C. Hand Park.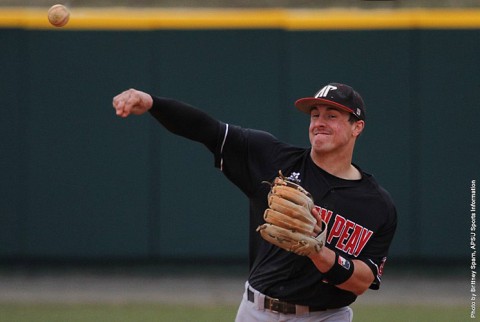 Austin Peay (9-5, 3-1 OVC) could not solve Jacksonville State starter Zachary Fowler through the first six innings.
Second baseman Garrett Copeland's second-inning single was the Govs lone hit during that first six innings.
Fowler didn't allow the single to blossom into anything dangerous as he retired the next 14 batters he faced.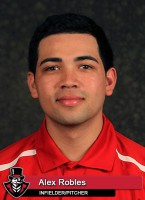 Jacksonville State (8-6, 1-3 OVC) opened the game by sending seven batters to the plate in the first against Govs starter Alex Robles. However, Robles limited the damage to one run and induced a bases-loaded fly out to end the threat.
The Gamecocks added two runs in the fifth, capitalizing when Robles allowed the first two batters to reach base. A wild pitch allowed one run across and a sacrifice fly led to a second run as Jacksonville State built a 3-0 lead.
The Govs offense finally broke through against Fowler in the seventh. Copeland began the rally with a two-out double, APSU's first hit since his single in the second.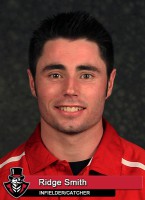 Catcher Ridge Smith followed with a triple off the wall in right center, scoring Copeland. Robles followed with a RBI double and advanced to third on a misplay. However, the Govs could not continue the rally and trailed 3-2 after seven innings.
Jacksonville State scored five runs in the final two innings. An Austin Peay error with two out in the eighth ultimately led to three runs. A two-run double by Elliot McCummings closed the scoring.
Robles (0-1) suffered the loss after allowing three runs on three hits and three walks in six innings, but did not see the Govs produce any runs until after he left the mound.
Copeland had two of the Govs five hits and one of the team's two walks, finishing 2-for-3 at the plate. Smith, Robles and shortstop Clayton Smithson each had one hit.
Fowler (2-2) picked up the win after holding the Govs to two runs in seven innings, striking out seven batters.
The top five of the Gamecocks order combined for 11 of the team's 14 hits. Third baseman Ryan Sebra led the effort with a 3-for-4, two RBI outing with a RBI single in the first and sacrifice fly in the fifth.
Austin Peay and Jacksonville State continue their series with a 2:00pm, Sunday contest at Raymond C. Hand Park. The Govs right-hander Caleb Powell (3-0) will take the mound against Gamecocks left hander Troy Urban (2-2).
Box Score
Jacksonville State 8 (8-6 / 1-3) vs Austin Peay 2 (9-5 / 3-1)
| | 1 | 2 | 3 | 4 | 5 | 6 | 7 | 8 | 9 | | | R | H | E |
| --- | --- | --- | --- | --- | --- | --- | --- | --- | --- | --- | --- | --- | --- |
| Jacksonville State | 1 | 0 | 0 | 0 | 2 | 0 | 0 | 3 | 2 | | 8 | 14 | 2 |
| Austin Peay | 0 | 0 | 0 | 0 | 0 | 0 | 2 | 0 | 0 | | 2 | 5 | 2 |
W: Zachary Fowler (2-2) L: ROBLES, Alex (0-1)
Jacksonville State (8-6)
| Player | AB | R | H | RBI | BB | SO | PO | A |
| --- | --- | --- | --- | --- | --- | --- | --- | --- |
| Gavin Golsan cf/lf | 6 | 1 | 2 | 1 | 0 | 0 | 2 | 0 |
| Clayton Daniel 2b | 4 | 1 | 2 | 2 | 1 | 0 | 2 | 2 |
| Paschal Petrongolo dh | 5 | 1 | 2 | 0 | 0 | 2 | 0 | 0 |
| Tyler Gamble 1b | 4 | 1 | 2 | 0 | 1 | 0 | 7 | 0 |
| Ryan Sebra 3b | 4 | 1 | 3 | 2 | 0 | 0 | 0 | 1 |
| Paul Angel lf | 3 | 0 | 0 | 0 | 1 | 1 | 0 | 0 |
| Chase Silvani cf | 0 | 0 | 0 | 0 | 0 | 0 | 1 | 0 |
| Elliot McCummings rf | 5 | 1 | 1 | 2 | 0 | 2 | 2 | 0 |
| Ty Pierce rf | 0 | 0 | 0 | 0 | 0 | 0 | 0 | 0 |
| Taylor Hawthorne ss | 5 | 1 | 1 | 0 | 0 | 2 | 3 | 5 |
| Hayden White c | 3 | 1 | 1 | 0 | 1 | 0 | 10 | 0 |
| Zachary Fowler p | 0 | 0 | 0 | 0 | 0 | 0 | 0 | 1 |
| Joe McGuire p | 0 | 0 | 0 | 0 | 0 | 0 | 0 | 0 |
| Totals | 39 | 8 | 14 | 7 | 4 | 7 | 27 | 9 |
BATTING:
2B: Elliot McCummings 1
SH: Chase Silvani 1
SF: Ryan Sebra 1
BASERUNNING:
SB: Gavin Golsan 1
CS: Clayton Daniel 1
HBP: Hayden White 1
FIELDING:
E: Gavin Golsan 1; Ryan Sebra 1
Austin Peay (9-5)
| Player | AB | R | H | RBI | BB | SO | PO | A |
| --- | --- | --- | --- | --- | --- | --- | --- | --- |
| MASSONI, Patrick rf | 4 | 0 | 0 | 0 | 0 | 2 | 2 | 0 |
| BREDLAU, Cayce lf | 3 | 0 | 0 | 0 | 1 | 1 | 3 | 0 |
| GRAY, Logan 3b | 3 | 0 | 0 | 0 | 0 | 3 | 0 | 0 |
| WILSON, Josh ph | 1 | 0 | 0 | 0 | 0 | 0 | 0 | 0 |
| MARIK, T.J. c | 0 | 0 | 0 | 0 | 0 | 0 | 1 | 0 |
| GLEASON, Dre 1b | 4 | 0 | 0 | 0 | 0 | 1 | 9 | 2 |
| COPELAND, Garrett 2b | 3 | 1 | 2 | 0 | 1 | 0 | 1 | 4 |
| SMITH, Ridge c/3b | 4 | 1 | 1 | 1 | 0 | 0 | 5 | 0 |
| ROBLES, Alex p/dh | 4 | 0 | 1 | 1 | 0 | 2 | 1 | 1 |
| HAMILTON, Chase cf | 3 | 0 | 0 | 0 | 0 | 1 | 3 | 0 |
| SMITHSON, Clayton ss | 3 | 0 | 1 | 0 | 0 | 0 | 2 | 2 |
| SPARKS, John p | 0 | 0 | 0 | 0 | 0 | 0 | 0 | 2 |
| KEMMER, Kacy p | 0 | 0 | 0 | 0 | 0 | 0 | 0 | 0 |
| COSTANZO, Michael p | 0 | 0 | 0 | 0 | 0 | 0 | 0 | 0 |
| Totals | 32 | 2 | 5 | 2 | 2 | 10 | 27 | 11 |