Austin Peay Sports Information

Murray, KY – For the second straight day Austin Peay State University pitchers held Murray State to five hits. However, the Govs held on for a 2-1 Ohio Valley Conference victory, Saturday, to level the three-game series, 1-1, at Reagan Field.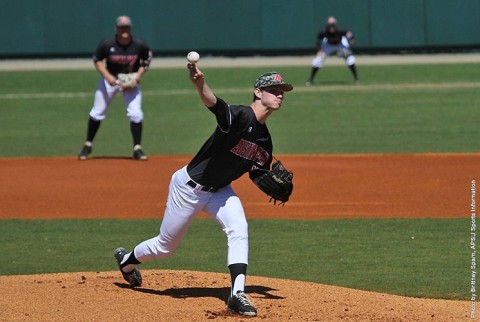 Starting pitcher
Jared Carkuff
and reliever
A.J. Gaura
combined to limit the Racers to five hits in the contest.
Carkuff surrendered three hits in the first two innings then did not allow another hit over his next four frames. Gaura allowed one hit in each of his two innings of work.
Austin Peay (11-8, 5-3 OVC) didn't have much better success against Murray State starter Brad Boegel. The Govs first run – and the only run of the first eight innings by either team – came in the third inning when third baseman Logan Gray's two-out ground ball was mishandled by the Racers third baseman, allowing a run to score.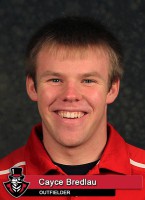 The Govs would load the bases with two out in the fourth inning against Boegel, but the Murray State right hander escaped the frame without allowing a run. That inning-ending out was the first of nine straight outs recorded by Boegel who stymied the Govs over the next five frames.
Austin Peay would finally find an insurance run in the ninth when it loaded the bases with one out. Left fielder Cayce Bredlau singled through the right side, scoring pinch runner Imani Willis, but Murray State right fielder Brock Downey's throw home was just in time to catch center fielder Chase Hamilton out and the Govs would not add to their 2-0 lead.
Murray State (7-16, 3-5 OVC) broke up the Govs shutout bid in its half of the ninth. Gaura allowed a leadoff double and served up what appeared to be an inning-ending double-play ground ball.
However, it eluded Govs shortstop Clayton Smithson, allowing the run to score. Gaura battled back to strike out the final two batters he faced to end the game.
Carkuff (3-3) picked up the win with seven scoreless innings, allowing three hits and three walks while striking out seven. Gaura struck out the side in the ninth as part of his two innings of work to record his third save.
Boegel (0-2) became the second straight Murray State pitcher to last more than eight innings, going 8.1 innings and allowing two runs on six hits in the loss.
Hamilton led the Govs offense with a pair of bunt singles as part of a 2-for-4 outing. Bredlau went 1-for-3 and had APSU's lone RBI.
Five different Murray State hitters recorded a hit. Left fielder Derek Yoder hitting the ninth inning double.
Austin Peay and Murray State will conclude their three game series with a 1:00pm, Sunday contest at Reagan Field. The Govs will turn to right-hander Caleb Powell (3-0) in the finale with Murray State's starting pitcher yet to be named.
Box Score
Eastern Illinois (6-12 / 1-1) -vs- Austin Peay (2-13 / 1-1)
| | 1 | 2 | 3 | 4 | 5 | R | H | E |
| --- | --- | --- | --- | --- | --- | --- | --- | --- |
| Eastern Illinois | 4 | 0 | 0 | 4 | 4 | 12 | 16 | 0 |
| Austin Peay | 0 | 0 | 0 | 0 | 0 | 0 | 3 | 2 |
W: WIREMAN, Jessica (3-7) L: NORRIS, Heather (0-3)
Eastern Illinois 12
Player
AB
R
H
RBI
BB
SO
LOB
cf
BECK, Haylee
4
1
0
0
0
0
0
lf
ISAAC, Jennette
3
2
2
0
0
0
0
ph
MIOKOVIC, Taylor
1
0
1
2
0
0
0
ss
O'DELL, Bailey
4
2
3
5
0
0
1
c
COLE, Hannah
4
1
2
1
0
0
0
1b
TOENYES, Amber
4
1
2
0
0
1
3
pr
MONAHAN, Taylor
0
1
0
0
0
0
0
rf
MARKOWSKI, April
3
1
1
0
0
0
0
3b
RACHOR, Hannah
3
0
2
1
0
0
0
dp
PAUL, Ashlynne
3
2
3
3
0
0
0
2b
WATSON, Katie
3
1
0
0
0
0
0
p
WIREMAN, Jessica
0
0
0
0
0
0
0
Totals
32
12
16
12
0
1
4
Batting
2B: O'DELL, Bailey (2); PAUL, Ashlynne (1)
HR: O'DELL, Bailey (1)
Baserunning
CS: PAUL, Ashlynne (1)
Austin Peay 0
| | Player | AB | R | H | RBI | BB | SO | LOB |
| --- | --- | --- | --- | --- | --- | --- | --- | --- |
| lf | GROVES, Chandler | 2 | 0 | 0 | 0 | 1 | 0 | 1 |
| 2b | BURROUGHS, Laurel | 3 | 0 | 0 | 0 | 0 | 1 | 0 |
| 1b | GABLE, Christiana | 2 | 0 | 1 | 0 | 1 | 0 | 0 |
| 3b | SPARKS, Niya | 2 | 0 | 0 | 0 | 0 | 0 | 0 |
| dp | DiBENEDETTO, Vinchen | 1 | 0 | 0 | 0 | 1 | 1 | 0 |
| c | PAVEL, Mel | 2 | 0 | 0 | 0 | 0 | 0 | 3 |
| p | AYALA, Natalie | 2 | 0 | 1 | 0 | 0 | 1 | 0 |
| p | HOOPER, Sidney | 0 | 0 | 0 | 0 | 0 | 0 | 0 |
| rf | ARKANSAS, Rikki | 2 | 0 | 1 | 0 | 0 | 0 | 1 |
| cf | BROWER, Courtney | 1 | 0 | 0 | 0 | 1 | 1 | 0 |
| ss | INAGAKI, Erica | 0 | 0 | 0 | 0 | 0 | 0 | 0 |
| | Totals | 17 | 0 | 3 | 0 | 4 | 4 | 5 |
Batting
2B:GABLE, Christiana (1)
Baserunning
CS: BROWER, Courtney (1)
Fielding
E: BURROUGHS, Laurel (1); SPARKS, Niya (1)