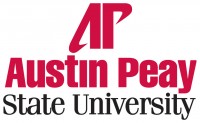 Clarksville, TN – Austin Peay State University made its mark on the national stage recently as active duty soldiers, including APSU students, stationed at Fort Campbell traveled to Fort Lee, VA for the 40th Annual Military Culinary Arts Competitive Training Event (MCACTE).
Held March 7th-12th, service members from the U.S. Army, other Department of Defense components and multinational teams squared off for the title of top military chef.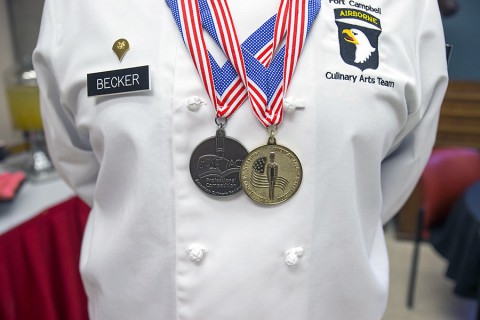 Nearly 300 service members from 28 different teams took part in the event, with 588 judged entries across various categories. Judging was provided by an international group of 12 chefs from the American Culinary Federation, which sets the bar for the standard of excellence for chefs.
The Fort Campbell Culinary Team participated in 16 different events, including desserts, appetizers, hors d'oeuvres, vegetable, local and various other categories that highlighted chefs with different years of experience.
Soldiers trained for six months at the APSU Culinary Kitchen, located on Fort Campbell, with APSU Culinary Arts instructor and chef, Wendell Hensley aiding the team. Hensley, who served for 25 years in the military, acts as a civilian advisor to the team, helping to plan menu items and train students for competition, as well as educational opportunities.
A current APSU student and active duty serviceman, SFC Jason Coy led the team, which placed medalists in a number of individual and team categories.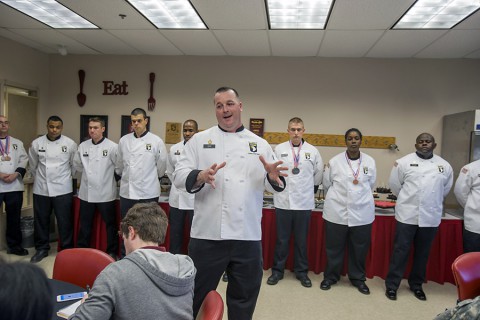 "This year is a lot better than it was last year," Coy, who himself earned a bronze medal in nutrition at the event, said. "Overall, we won 10 combined medals this year, which is (a great finish.) As for me, I just helped to give the cooks an idea or recipe, but it was up to them to go out and perform and they did a remarkable job."
APSU students and soldiers who took home medals included Specialist Asa Harlow-Fitzpatrick, who won a silver medal and two bronze medals in team and individual competition.  Sgt. Chad Burton, who served as team captain, also took home silver medals team and individual competition, as well as a bronze in association with Coy.
Specialist Jayson Stephens, also an APSU student, competed as a member of the student team and earned a "commendable" honor for his work.
Burton, who helped choose the team of 13 cooks from over 60 applicants, said he was proud of his team's performance.
"I had the distinct honor of being their captain and they all did very well," Burton said. "This is the best showing we've had in four years as a team, and we were coming off of a year where we only won three or four bronze medals in total."
The MCACTE is the largest military culinary competition in the North America. Since 1973, the competition has been held each year with the exception of 1991 and 2003, during Desert Storm and Operation Iraqi Freedom. The American Culinary Federation sanctions the competition.
For more information on the Austin Peay Center at Fort Campbell, as well as information on APSU's Associate of Applied Science, contact the Center at 931.221.1400.