Austin Peay at Eastern Kentucky
Friday-Sunday, April 17th-19th, 2015
Richmond, KY | Turkey Hughes Field

Richmond, KY – The unfriendly road awaits Austin Peay's baseball team as it treks to "Death Valley" for a three-game Ohio Valley Conference series against Eastern Kentucky, Friday-Sunday, at Turkey Hughes Field.
The Govs and Colonels will start the series with a 5:00pm (CT), Friday contest followed by a 3:00pm, Saturday contest and a noon, Sunday affair.
While Raymond C. Hand Park, where the Govs are 15-6, has been a sanctuary this season, the road has been less kind.
Austin Peay only has a 5-8 record and has not won a three-game series away from Clarksville this season.
The Govs offense particularly has struggled on the road. The team is batting just .279 in away games while posting a .322 mark at home. Run scoring also drops, averaging only 5.4 runs per game on the road against 8.4 runs per game at home. However, the Govs pitching staff has gotten the job done on the road, holding opponents to a .249 batting average and a 4.75 earned-run average.
Austin Peay enters its seventh OVC weekend with a 11-7 OVC record, just two games behind league-leading Southeast Missouri. This weekend begins a stretch where the Govs will play three consecutive weekends against teams behind it in the OVC standings.
Eastern Kentucky will be playing at home for only the third weekend this season. The Colonels own a 5-3 home mark, which it improved with a Wednesday victory against Morehead State – ending the Eagles 11-game winning streak in the process.
First Hacks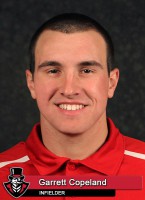 The Govs offense enters the weekend as one of the nation's top doubles-producing teams, averaging 2.59 doubles per game (3rd in Division I) and are among Division I's Top 50 in average (14th, .306), slugging percentage (11th, .472), on-base percentage (16th, .399) and stolen bases per game (28th, 1.68).
Second baseman Garrett Copeland is the reigning adidas® OVC Player of the Week and is batting .429 (15-for-35) with 10 RBI in his last 8 games. Third baseman Logan Gray owns a 7-game hit streak entering the weekend and is batting .500 (16-for-32) with 6 home runs and 16 RBI during the streak.
Right fielder Josh Wilson has reached safely in 19 consecutive games, posting a .493 on-base percentage during the streak. First baseman Dre Gleason has 8 hits (.471 batting average) and 6 RBI in his last 5 games. Left fielder Cayce Bredlau has 7 hits (.538 batting average), 2 home runs and 8 RBI in his last 3 games.
Center fielder Patrick Massoni has a .341 batting average, 3 home runs and 17 RBI when starting a game as the Govs leadoff hitter. Catcher Ridge Smith owns a 5-game hit streak and went 3-for-4 with 5 runs scored from the leadoff spot against Southern Illinois, Wednesday.
Shortstop Imani Willis has just 1 hit (.067 batting average) in his last 4 games. Designated hitter Alex Robles has 6 hits (.400 batting average) in his last 4 games. Outfielder Chase Hamilton has platooned with Massoni in center field; he has 1 hit (.077 batting average) and 3 BB in his last 5 games.
Toeing The Rubber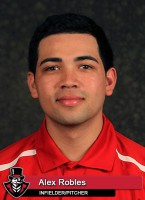 Righty Alex Robles will make his 6th straight start as the Govs No. 1 this weekend. Robles is the OVC's ERA leader (3.08) entering the weekend. Robles notched his 2nd complete game this season in last weekend's victory against Belmont.
Left-hander Zach Hall will return to the No. 2 spot for his 3rd OVC start this season. In the last month, he has totalled 4.2 innings in 3 starts – all since his March 17 start at Tennessee. Right-hander Jared Carkuff returns to the weekend starting rotation for the 1st time since a March 28th start at Tennessee Tech.
Carkuff leads the Govs with 2 wins and a 1.71 ERA in road games this season. A.J. Gaura is one of five Govs pitchers to record a save this season and has a team-best five saves, three in OVC play.
Video
Cayce Bredlau leads the Govs into a big OVC weekend at Eastern Kentucky.
Broadcast Information
Weekend Radio • Governors Sports Network
Play-by-Play: Brian Rives
Midweek Audio • OVC Digital Network
Play-by-Play: Ethan Schmidt
Governors on the Web
Live Statistics: www.PeayStats.com
Twitter: @APSUBasebal
Digital Audio • Govs Digital Passport
Audio for all APSU Baseball contests will be available free online at www.LetsGoPeay.com/watch