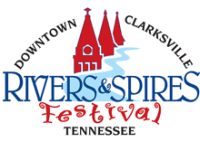 Clarksville, TN – The 13th annual Rivers and Spires Festival kicked off Thursday afternoon, April 16th in downtown Clarksville. Rain that morning had left the area, clouds parted and the sun dried up the streets. There was a cool breeze to go with the blue skys. Perfect weather for the start of the event.
Everything got started at 5:00pm with the opening of the Quilts of the Cumberland exhibit at Madison Street United Methodist Church. The winning quilts had their awards pinned next to the quilt. At 5:30pm, there was a Trunk Show with Charlie Rehea entitled "Quilting Through the Years with Jamie and Charlie."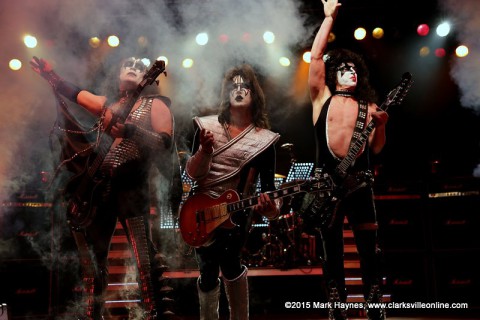 Local pop group Driven was on the Strawberry Alley Stage at 5:30pm. Blues Fever performed on the Public Square Stage at 5:45pm. Come 7:00pm, Dayglow Freaks could be heard ripping Steely Dan tunes on the Public Square Stage.
All of this led up to Thursday nights headliner performing on the Public Square Stage at 8:00pm. The night belonged to KISS, Mr. Speed. From the moment they stepped onto the stage, the KISS Tribute Band Mr. Speed electrified the audience.
Everyone was standing, clapping and singing along as Mr. Speed brought back classic KISS songs from the 70's. Paul Stanley, Gene Simmons, Ace Frehley and Peter Criss came to life on stage as these guys were dead on. It's no wonder Mr. Speed was crowned the 2012 "The Best KISS Tribute Band in the World" in Las Vegas.
The band consists of Rich Kosak as The Starchild, Joe Hess as The Spaceman, Andrew Sgambati as The Catman and Danny Ayala as The Demon. From their costumes, music and vocals, you can tell these guys have put their heart and soul into their KISS performance.
There could have been no better way to start this year's Rivers and Spires Festival. Mr. Speed rocked downtown Clarksville and gave a performance that will not be forgotten by those in attendance.
Rivers and Spires continues Friday, April 17th. Everything gets started at 5:00pm. Don't miss your chance to see other great performances like Mr. Speed.
Photo Gallery
About the Rivers and Spires Festival
The 13th Annual Rivers and Spires Festival, April 16th-18th in downtown Clarksville, is free and open to the public. The Festival features five stages of music and entertainment, arts and crafts, marketplace, food vendors and activities for all ages. Please no pets or firearms at the Festival.
For more information and a complete schedule, visit www.riversandspires.com