Austin Peay Sports Information

Clarksville, TN – Austin Peay State University's baseball team scored eight runs in its final five innings to post an 8-4 come-from-behind victory against Morehead State, Friday night in Ohio Valley Conference action at Raymond C. Hand Park.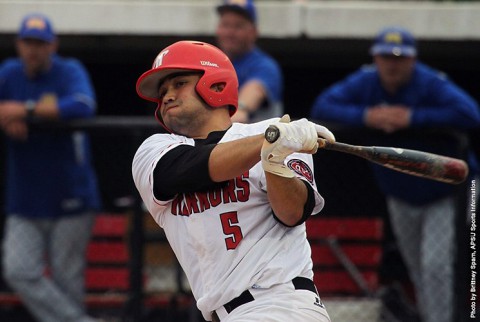 Trailing 3-0 after three innings, Austin Peay (22-17, 13-9 OVC) quickly rallied to tie the game in the fourth.
Second baseman Logan Gray drove in the Govs first run with a double. Two outs later, first baseman Dre Gleason tied the game with a two-run home run to right center.
Austin Peay broke the tie with runs in both the fifth and sixth innings. The Govs took advantage of a Morehead State error to plate a run in the fifth. In the sixth, the Govs got back-to-back singles to start the inning, center fielder Patrick Massoni moved the runners with a sacrifice bunt and catcher T.J. Marik drove in a run with a sacrifice fly for a 5-3 lead.
Morehead State (25-17, 11-8 OVC) threatened in the seventh. APSU starter Alex Robles began the inning by hitting a batter and surrendering a single before leaving the game. Reliever Levi Primasing couldn't quell the threat, issuing a walk to the only batter he faced to load the bases.
Austin Peay turned to closer A.J. Gaura at that point with the bases loaded and no outs. Gaura would surrender a run on a wild pitch, but then got back-to-back strike outs. He induced an inning-ending fielder's choice to end the threat with APSU leading 5-4.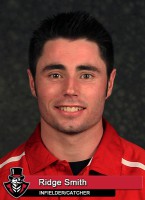 The Govs added three insurance runs in the eighth. Robles hit a leadoff home run – his first since February 18th, 2014 – to start the rally. An Eagles error in a single by Massoni gave the Govs another opportunity to score and third baseman Ridge Smith made it pay off with a two-run single, extending the lead to 8-4.
Robles (5-2) won his fifth straight start, going six-plus innings and allowing four runs on seven hits. He struck out four batters, but a first-inning walk ended a streak of 20 consecutive innings without allowing a walk.
Gaura tossed the final three scoreless innings without allowing a hit, striking out four and walking two batters, to earn his season's sixth save.
Gray, Robles and Gleason each had two hits as Austin Peay finished with 10 hits in the contest. Smith and Gleason also had two RBI each.
Morehead State right fielder Brandon Rawe went 2-for-4, including a first-inning two-run home run. Designated hitter Jimmy Wright led off the second inning with a home run and was 1-for-3 on the night.
Eagles starter Luke Humphreys (5-2) held Austin Peay scoreless through three innings. However, he ultimately was tagged for the loss after allowing five runs on six hits in six innings, finishing with six strikeouts.
Austin Peay and Morehead State resume their three-game OVC series with a scheduled 2:00pm, Saturday contest. Due to rain in the forecast, fans should follow www.LetsGoPeay.com – the Austin Peay athletics official website – for up-to-date schedule information.
Box Score
Morehead State (25-17 / 11-8) -vs- Austin Peay (22-17 / 13-9)
| | 1 | 2 | 3 | 4 | 5 | 6 | 7 | 8 | 9 | R | H | E |
| --- | --- | --- | --- | --- | --- | --- | --- | --- | --- | --- | --- | --- |
| Morehead State | 2 | 1 | 0 | 0 | 0 | 0 | 1 | 0 | 0 | 4 | 7 | 2 |
| Austin Peay | 0 | 0 | 0 | 3 | 1 | 1 | 0 | 3 | X | 8 | 10 | 0 |
W: ROBLES, Alex (5-2)    L: HUMPHREYS, Luke (5-2)    S: GAURA, A.J. (6)
Morehead State 4
| | Player | AB | R | H | RBI | BB | SO | LOB |
| --- | --- | --- | --- | --- | --- | --- | --- | --- |
| cf | KENT, Ryan | 3 | 0 | 1 | 0 | 2 | 0 | 0 |
| 1b | SWEENEY, Kane | 3 | 1 | 0 | 0 | 2 | 1 | 0 |
| rf | RAWE, Brandon | 4 | 1 | 2 | 2 | 1 | 1 | 0 |
| c | ROBINSON, Chris | 5 | 0 | 0 | 0 | 0 | 3 | 5 |
| ss | SPENCER, Robby | 4 | 0 | 1 | 0 | 0 | 0 | 2 |
| lf | NEWELL, Nick | 4 | 0 | 1 | 0 | 0 | 0 | 1 |
| dh | WRIGHT, Jimmy | 3 | 1 | 1 | 1 | 0 | 2 | 0 |
| ph | MEYER, Clayton | 1 | 0 | 0 | 0 | 0 | 1 | 0 |
| 3b | WARDEN, Evan | 4 | 0 | 1 | 0 | 0 | 0 | 1 |
| 2b | MORRIS, Braxton | 3 | 1 | 0 | 0 | 0 | 0 | 0 |
| p | HUMPHREYS, Luke | 0 | 0 | 0 | 0 | 0 | 0 | 0 |
| p | WRIGHT, Cable | 0 | 0 | 0 | 0 | 0 | 0 | 0 |
| p | ANDERSON, Matt | 0 | 0 | 0 | 0 | 0 | 0 | 0 |
| | Totals | 34 | 4 | 7 | 3 | 5 | 8 | 9 |
Batting
HR:RAWE, Brandon (1); WRIGHT, Jimmy (1)
Baserunning
HBP:MORRIS, Braxton (1)
Fielding
E:SPENCER, Robby (1); HUMPHREYS, Luke (1)
Austin Peay 8
| | Player | AB | R | H | RBI | BB | SO | LOB |
| --- | --- | --- | --- | --- | --- | --- | --- | --- |
| 3b | SMITH, Ridge | 4 | 1 | 1 | 2 | 1 | 1 | 1 |
| lf | BREDLAU, Cayce | 4 | 0 | 1 | 0 | 0 | 3 | 0 |
| ss/2b | COPELAND, Garrett | 3 | 1 | 0 | 0 | 1 | 0 | 0 |
| 2b | GRAY, Logan | 2 | 1 | 2 | 1 | 0 | 0 | 0 |
| ph | HAMILTON, Chase | 1 | 0 | 0 | 0 | 0 | 1 | 0 |
| ss | WILLIS, Imani | 1 | 0 | 1 | 0 | 0 | 0 | 0 |
| rf | WILSON, Josh | 4 | 0 | 0 | 0 | 0 | 1 | 5 |
| p/dh | ROBLES, Alex | 4 | 2 | 2 | 1 | 0 | 0 | 0 |
| 1b | GLEASON, Dre | 4 | 2 | 2 | 2 | 0 | 0 | 0 |
| cf | MASSONI, Patrick | 3 | 1 | 1 | 0 | 0 | 0 | 0 |
| c | MARIK, T.J. | 3 | 0 | 0 | 1 | 0 | 3 | 0 |
| p | PRIMASING, Levi | 0 | 0 | 0 | 0 | 0 | 0 | 0 |
| p | GAURA, A.J. | 0 | 0 | 0 | 0 | 0 | 0 | 0 |
| | Totals | 33 | 8 | 10 | 7 | 2 | 9 | 6 |
Batting
2B:BREDLAU, Cayce (1); GRAY, Logan (1)
HR:ROBLES, Alex (1); GLEASON, Dre (1)
SH:MASSONI, Patrick (1)
SF:MARIK, T.J. (1)
Baserunning
SB:WILLIS, Imani (1); GLEASON, Dre (1)
CS:SMITH, Ridge (1)
HBP:BREDLAU, Cayce (1)