Austin Peay Sports Information

Bowling Green, KY – A pair of late defensive miscues proved costly as Austin Peay State University's baseball team fell to Western Kentucky, 6-5 in 10 innings, in nonconference action at Nick Denes Field.
Austin Peay (22-20) took its only lead in the sixth inning. Shortstop
Imani Willis
hit a leadoff double and scored on designated hitter
Cayce Bredlau
's single for a 5-4 advantage.
The Govs would have opportunities to extend the lead in the seventh and eighth innings, but left a runner in scoring position in each frame.
Western Kentucky (22-20) rallied to tie the game in the seventh thanks to an Austin Peay error. Center fielder Anderson Miller led off with a single and the Hilltoppers moved him 90 feet with a sacrifice bunt. First baseman Ryan Church grounded to third base but was safe as the throw to first sailed wide, allowing Miller to score.
The Hilltoppers threatened to break the 5-5 tie in the eighth inning, putting two runners in scoring position with one out. The Govs turned to left-hander John Sparks and he faltered at first, throwing a wild pitch that then forced an intentional walk to load the bases. However, the freshman hurler settled down and induced a fly out and line out to center field to end the threat.
Sparks retired the Hilltoppers in order in the 10th inning and struck out the first batter he faced in the 11th. Designated hitter Steven Kraft reached on an infield single to start the final rally. Catcher Ryan Messex appeared to line out to left field, but the ball was dropped allowing the inning to continue. Sparks responded by striking out the next batter he faced to get to two outs. But he would not get the third out as Miller singled to center field, ending the game.
Sparks (3-1) was the hard-luck loser after allowing one unearned run in 2.1 innings of sparkling relief. His effort joined reliever Levi Primasing's 3.2 innings of relief that saw him allow one unearned run on six hits.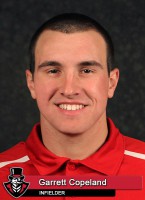 Bredlau led the Govs offense with a 4-for-5, two RBI outing. Second baseman Garrett Copeland, third baseman Alex Robles and first baseman Dre Gleason each had two hits.
WKU reliever Ben Morrison (2-0) picked up the win in relief, striking out six of the seven Govs batters he faced. Miller finished the game 2-for-5 with the game-winning RBI.
Austin Peay and Western Kentucky will meet again with a 6:00pm, Wednesday contest at Raymond C. Hand Park.
Box Score
Austin Peay (22-20) -vs- Western Kentucky (22-20)
| | 1 | 2 | 3 | 4 | 5 | 6 | 7 | 8 | 9 | 10 | R | H | E |
| --- | --- | --- | --- | --- | --- | --- | --- | --- | --- | --- | --- | --- | --- |
| Austin Peay | 1 | 0 | 1 | 2 | 0 | 1 | 0 | 0 | 0 | 0 | 5 | 13 | 4 |
| Western Kentucky | 2 | 0 | 2 | 0 | 0 | 0 | 1 | 0 | 0 | 1 | 6 | 14 | 1 |
W: Ben Morrison (2-0)    L: SPARKS, John (3-1)
Austin Peay 5
| | Player | AB | R | H | RBI | BB | SO | LOB |
| --- | --- | --- | --- | --- | --- | --- | --- | --- |
| c | SMITH, Ridge | 6 | 1 | 1 | 0 | 0 | 2 | 0 |
| dh | BREDLAU, Cayce | 5 | 1 | 4 | 2 | 1 | 1 | 1 |
| 2b | COPELAND, Garrett | 4 | 0 | 2 | 0 | 1 | 1 | 1 |
| rf/1b | WILSON, Josh | 5 | 0 | 1 | 1 | 0 | 0 | 2 |
| 3b | ROBLES, Alex | 4 | 0 | 2 | 1 | 0 | 2 | 1 |
| 1b | GLEASON, Dre | 5 | 0 | 2 | 0 | 0 | 1 | 2 |
| rf | BLACKBURN, Kyle | 0 | 0 | 0 | 0 | 0 | 0 | 0 |
| lf | MASSONI, Patrick | 2 | 1 | 0 | 0 | 1 | 1 | 0 |
| cf | HAMILTON, Chase | 4 | 1 | 0 | 0 | 1 | 2 | 2 |
| ss | WILLIS, Imani | 5 | 1 | 1 | 0 | 0 | 3 | 3 |
| p | NEFF, Zach | 0 | 0 | 0 | 0 | 0 | 0 | 0 |
| p | PRIMASING, Levi | 0 | 0 | 0 | 0 | 0 | 0 | 0 |
| p | WALTON, Zach | 0 | 0 | 0 | 0 | 0 | 0 | 0 |
| p | SPARKS, John | 0 | 0 | 0 | 0 | 0 | 0 | 0 |
| | Totals | 40 | 5 | 13 | 4 | 4 | 13 | 12 |
Batting
2B:ROBLES, Alex (1); GLEASON, Dre (1); WILLIS, Imani (1)
SH:MASSONI, Patrick (1)
SF:ROBLES, Alex (1)
Baserunning
SB:BREDLAU, Cayce (1); MASSONI, Patrick (1); HAMILTON, Chase (1); WILLIS, Imani (1)
CS:BREDLAU, Cayce (1)
HBP:MASSONI, Patrick (1)
Fielding
E:ROBLES, Alex (2); MASSONI, Patrick (1); NEFF, Zach (1)
Western Kentucky 6
| | Player | AB | R | H | RBI | BB | SO | LOB |
| --- | --- | --- | --- | --- | --- | --- | --- | --- |
| cf | Anderson Miller | 5 | 2 | 2 | 1 | 1 | 1 | 1 |
| 3b | Danny Hudzina | 4 | 2 | 2 | 2 | 0 | 0 | 3 |
| 1b | Ryan Church | 5 | 0 | 0 | 0 | 0 | 2 | 0 |
| rf | Philip Diedrick | 4 | 1 | 3 | 2 | 0 | 0 | 0 |
| ss | Cody Wofford | 5 | 0 | 2 | 0 | 0 | 0 | 2 |
| lf | Paul Murray | 3 | 0 | 0 | 0 | 0 | 2 | 0 |
| ph | Harrison Scanlon | 1 | 0 | 0 | 0 | 0 | 1 | 0 |
| lf | Grant Malott | 1 | 0 | 0 | 0 | 0 | 1 | 0 |
| dh | Steven Kraft | 4 | 1 | 3 | 0 | 1 | 0 | 2 |
| c | Ty Hogan | 2 | 0 | 0 | 0 | 0 | 1 | 0 |
| ph | Kaleb Duckworth | 1 | 0 | 1 | 0 | 0 | 0 | 0 |
| c | Ryan Messex | 2 | 0 | 1 | 0 | 0 | 0 | 0 |
| 2b | Leiff Clarkson | 4 | 0 | 0 | 0 | 1 | 2 | 1 |
| p | Sam Higgs | 0 | 0 | 0 | 0 | 0 | 0 | 0 |
| p | Connor McHugh | 0 | 0 | 0 | 0 | 0 | 0 | 0 |
| p | Cody Coll | 0 | 0 | 0 | 0 | 0 | 0 | 0 |
| p | John Harman | 0 | 0 | 0 | 0 | 0 | 0 | 0 |
| p | Tate Glasscock | 0 | 0 | 0 | 0 | 0 | 0 | 0 |
| p | Ben Morrison | 0 | 0 | 0 | 0 | 0 | 0 | 0 |
| | Totals | 41 | 6 | 14 | 5 | 3 | 10 | 9 |
Batting
2B:Philip Diedrick (1); Steven Kraft (1)
HR:Danny Hudzina (1); Philip Diedrick (1)
SH:Danny Hudzina (1)
Baserunning
SB:Philip Diedrick (1); Cody Wofford (1); Leiff Clarkson (1)
HBP:Philip Diedrick (1)
PO:Steven Kraft (1)
Fielding
E:Cody Wofford (1)