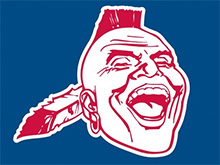 Clarksville, TN – So far, you have to hand it to John Hart. Shelby Miller, Mike Foltynewicz and Jace Peterson already look like potential long-timers, while Matt Wisler, Tyrell Jenkins and Mallex Smith show great promise.
Meanwhile, Craig Kimbrel has an ERA over 4.00 and Jason Heyward is making my MVP boasting look woefully misinformed (I swear I wasn't reverse-jinxing it, Cardinal fans – I still believe he'll be very good for someone), so Hart looks like Nostradamus right now. In fact, he's set the Braves up to be pretty good for a while at almost every spot.
Almost.
As I'm certain you've heard by now if you've watched the Braves, listened to the Braves, been near a Braves fan or just kinda thought about the Braves over the last 10 days or so, the bullpen stinks. No, that doesn't do it justice. The bullpen is a disaster inside a dumpster fire rolling downhill toward a gas tank.
For the season, the Braves team relief ERA of 4.86 is the second-worst in baseball, behind only the Oakland A's – and Atlanta doesn't have a switch-pitcher to call up who would immediately become the best righty and best lefty on the team the way Oakland did. Practically every peripheral number you can imagine – FIP (4.54, 30th), K/BB ratio (1.92, 29th), HR/FB percentage (13.7 percent, 29th), walk percentage (10.7, 28th), WHIP (1.44, 26th), xFIP (4.16, 24th) – says that Atlanta's relievers are awful.
Those numbers are right.
More to the point, those numbers are right and they're not just going to magically get better. Trevor Cahill is a starter (and a bad one, at that) masquerading as a long man. Brandon Cunniff is wild (4.71 walks per nine, throwing balls on nearly 43 percent of pitches). Cody Martin, for whatever reason, is entirely too hittable (26.3 percent line-drive rate!) and at this point, he probably has to stay because Sugar Ray Marimon, Donnie Veal and Nick Masset weren't the answer and smart money says David Aardsma won't be the answer either. I mean, Peter Moylan is the next hope and he was player-coaching in Danville two weeks ago.
It's a far cry from the heyday of Craig Kimbrel, Jonny Venters and Eric O'Flaherty, there can be no doubt. Frank Wren failed at a great many things, but the dude was usually able to assemble a bullpen that could hold a lead, assuming the offense could find one. There's the implication in some baseball circles that bullpen arms are a dime-a-dozen and you can shuttle people in and out until you find the right combination. Hart seems to subscribe to that theory, which would be fine if he had used his wheeling-and-dealing time to acquire bullpen arms. But he didn't, and now his team – which should probably be a tick over .500 at this point – is having trouble treading water and losing ground in the (currently very winnable) NL East standings because no lead is safe.
The Frank Wren move in such a situation, of course, would be to trade Future for Present (and usually cash considerations). Since Frank Wren is currently unemployed, it's safe to say following in his footsteps isn't viable.
But will John Hart be content to sit back – his regime has preached patience from the moment he accepted the job – as a potentially decent season goes down the tubes because he won't pull the trigger on some much-needed relief help?
We're just now getting into the true summer trading window as teams come to terms with what they are and whether they need to buy or sell. Stuck in third, fighting for .500, three-and-a-half back in the division and four-and-a-half back in the Wild Card (I know, it's early) is a bad place to be, because then you're stuck. Sell and you look like you're punting on a potential play-off berth. Buy, and you're mortgaging the future for a slim run at a pennant. Such is the unenviable spot John Hart's piecemeal assembly of a bullpen has put him in.
What to Read
Just file this one under 'Sometimes, Google will bring you to some strange places'.
Stat o' the Week
I gave you lots and lots (and lots and lots and lots) of bad stats about the bullpen earlier, so how's about something positive from the hitters? Well, I don't have anything. But I do have the knowledge that the Braves currently have one bunt hit by anyone on the active roster, and it came from Jace Peterson last week. Prior to that, the last time a Brave bunted for a hit was Eric Young Jr. at the end of April. True, both the Dodgers and Red Sox only have one bunt for a base hit this season, but they also employ mashers like Joc Pederson, Adrian Gonzalez, Hanley Ramirez and Dustin Pedroia to dull the pain a bit.
(Bonus stat o' the week: After I looked that up, I got curious. Average isolated power – that is, a measure of a player's raw power – is .140. Six of the 10 Red Sox with 70 or more at-bats were below that number, while eight of 11 Braves failed to reach average. For the Dodgers? Three of 10 – and one of them the Braves just traded for in Juan Uribe.)
If you only catch one game of the Mets series, make it…
The on-going hilarity that is Bartolo Colon – 41 years old, several cheeseburgers north of three bills – attempting to bat in a major league baseball game will be on display Friday night against Alex Wood (assuming he's not suspended for the world's lamest attempted-brushback-meltdown-subsequent-ejection series against Pittsburgh on Sunday).
Complementary Old-Timey Baseball Quote
"Hating the Yankees isn't part of my act, it is one of those exquisite times when life and art are in perfect conjunction." – Bill Veeck to the New York Times, July 16th, 1979
Best Performance by a former Brave last week
On Monday night, the Padres came to Turner Field. B.J. Upton (get your own column if you want to call him Melvin) scored the tying run, Justin Upton scored the go-ahead run and Craig Kimbrel shut the Braves down in the 11th for the save. I'm sure I'll get over it someday.