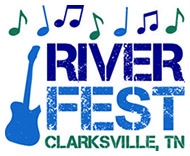 Clarksville, TN – There are so many ways to play at the City of Clarksville's 28th annual Riverfest Celebration. The Festival will be held Thursday, September 10th through Saturday, September 12th, 2015.
The free music and arts festival features three stages of a variety of local, regional and nationally-known entertainers, delicious food, and fun for the entire family.
Whether you are looking for a competition, team event or just some fun and games Riverfest will have you covered all weekend long! Sign up online at www.clarksvilleriverfest.com
52-Hour Film Festival
Participants will create a short film (4-7 minutes) based on the genre assigned at the mandatory meeting Friday, August 14th at 6:00pm at Freedom Point. Films will be judged, selected and screened at a public showing on Thursday, September 10th.
Juried Art Show
Professional, Amateur, Student, and Senior Divisions are available. Entry fees vary depending on division – register early and save! Art Show will be held at the Wilma Rudolph Event Center on Thursday, September 10th.
Human Foosball Tournament
Saturday, September 12th, 10:00am – 8:00pm
Grab five of your favorite friends and compete for your chance to win ultimate bragging rights! Six-man teams will compete in this life-size version of your favorite table top game in one of three divisions: Youth (10-17 years old), Adults (18-30 years old), and Semi-Pro (31 years old and above).
Cost is $60.00 for the entire team ($10.00 per player). Register your team today!
Cardboard Boat Regatta
Saturday, September 12th, beginning at 10:00am
This fan favorite is back for the ninth year. Boats are constructed from recycled materials and raced down the Cumberland River in a 100-yard dash. Divisions include: adult, youth (with adult), civic/churches, businesses, and local government agencies. Registration ends Wednesday, September 2nd.
Buy Your Tickets Today
Thursday, September 10th, beginning at 6:30pm
Don't miss the best show in town as the legendary Temptations revue relives the classics at Freedom Point. Tickets include live entertainment, drinks, and heavy hor d'oeuvres. Reserve your tickets today.
Riverfest Entertainment
Friday – September 11th
Wicked Good Sandwiches Stage
5:00pm     Earnest Ernest
6:00pm     New City Savages
7:00pm     Whiskey Angel
8:00pm     Dusty Mahan & The Bootleggers
9:00pm     Queen City Heist
Miller Lite Stage
4:45pm  September 11th Commemoration with Fort Campbell
5:00pm  Fort Campbell Band
5:30pm  Cultural Performances
7:00pm  The Rocketmen
8:00pm  Tina Brown Band
9:00pm  Serieux – A Temptations Revue
Riverbend Stage
5:00pm     Emma Feldman
5:45pm     Lydia Walker
6:30pm     Risen
7:15pm     Not Easily Broken
7:45pm     Sons of Levi
8:30pm     Dionne Jermeia
9:30pm     Bellarive
---
Saturday – September 12th
Wicked Good Sandwiches Stage
12:00pm  Lacey Caroline
12:45pm  Brother Ryan & Co.
1:45pm    The Rumps
2:45pm    Resistance House Band
3:45pm    Auction The Secret
4:45pm    The Nick Jones Project
5:45pm    Jungle Fever
6:45pm    The Great Affairs
7:45pm    August Christopher
8:45pm    Blue Matches
Miller Lite Stage
12:00pm  David Perez
1:00pm    Cole Washburn
2:00pm    Lana's Dance Centre
2:30pm    Tiger Taekwondo
3:00pm    Ballet Folklorico Viva Panama
5:00pm    Music for Mercy
6:00pm    Sonia Leigh
7:00pm    Corey Farlow
8:00pm    Brooke Eden
9:00pm    Charles Esten
Riverbend Stage
11:45am    Natalies Dance Network
12:00pm    Francy and Julia
12:45pm    Acro Dance Express
1:00pm     Sarah Spencer
1:45pm     Stars Dance Studio
2:00pm     Mercedes Johnson
2:30pm     Lana's Dance Centre
2:45pm     Cast & Crowns Dance Troupe
3:00pm     Step Show hosted by Daymar College
4:45pm     Distinguished Steppers
5:00pm     Clemency
6:00pm     Jill and Kate
7:00pm     Jenny Leigh
8:00pm     The Rocketboys
About Riverfest
Riverfest is Clarksville's longest running community Festival. Now in its 28th year, Riverfest brings over 30,000 people to the banks of the Cumberland River in an arts and recreation celebration. This year the Festival will be held September 10th-12th, 2015. Music, art, family events, and more will fill McGregor Park.
Admission and entertainment at the Festival are free and open to the public. Riverfest is proud to announce the 2015 headliner Charles Esten, star of the hit ABC series "Nashville". More announcements will be made soon, as new events and entertainment are finalized.
To stay up to date on the latest Festival happenings visit the Festival website, www.clarksvilleriverfest.com , and sign up for the Festival newsletter. The Festival is brought to you by the City of Clarksville Parks and Recreation Department.
For questions please call 931.645.7476 or visit www.clarksvilleriverfest.com