Austin Peay Sports Information

Clarksville, TN – Travis Janssen, who revived a Northeastern State (Oklahoma) program as head coach in between two stints as the top assistant at Jacksonville State, has been hired as Austin Peay State University's new head baseball coach.
Janssen replaces Gary McClure, who resigned in August. The Manhattan, KS, native becomes APSU's 11th head baseball coach but only second since 1988.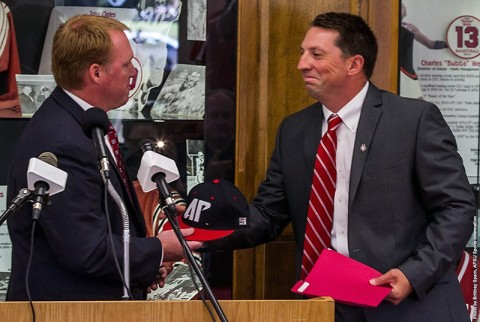 He comes to Austin Peay after a short second stop at JSU. After a four-year tenure at Northeastern State and more than 100 wins, he chose to return to Jacksonville State in mid-July to better position himself to become a Division I head coach. Little did he know that would happen two months later.
"We are excited to welcome Travis and his wonderful family to Clarksville and Austin Peay," APSU Athletics Director Ryan Ivey said. "Throughout the search process, his name continually came up from very well-respected and successful people in the baseball community. He has a vision for the Governors baseball program that will take us to the next level.
"His passion for making a difference in the lives of student-athletes is contagious, and I have no doubt our baseball program will achieve great things under his leadership."
While in charge of the Division II RiverHawks, the program rose to great heights. Janssen inherited a program that won just six games in in 2011 and guided it to at least 25 victories in each of his four campaigns, marking the first such occurrence during Northeastern State's NCAA era (since 1996).
The RiverHawks advanced to the Mid-America Intercollegiate Athletic Association's (MIAA) Championship tournament all three years since NSU joined the league, including the 2014's squad run to the MIAA Championship semifinals after posting back-to-back wins over No. 1 seed Central Missouri (upset Central Missouri in first round, which was played as best of three series at Central Missouri). NSU also registered winning records in three of Janssen's four seasons at the helm, the program's best four-year stretch since 1999-02.
The RiverHawks went 26-28 in 2014 and boasted the league's Freshman of the Year and five All-MIAA honorees, including consensus All-America outfielder Cody Robinson. The previous season Northeastern State posted a 28-23 record, the program's most wins since 2002 and the program's first conference tournament appearance since 2000. The 2013 squad led Division II in home runs (69) and home runs per game (1.35), while finishing fourth in slugging percentage (0.511) and in the top 30 in scoring (7.4), runs (376), doubles (104), and doubles per game (2.04).
Janssen's first NSU squad finished 2012 with a 25-24 overall record. The 19-win improvement over the previous season's 6-33 record was the third-best turnaround in the NCAA that year. Five Northeastern players coached by Janssen went on to the professional ranks.
In his initial stint at Jacksonville State from 2006-11, Janssen's primary coaching responsibilities were coaching infielders and hitters, while serving as third base coach. The Gamecocks won at least 30 games in each of his six seasons, including two Ohio Valley Conference championships and two other OVC runner-up finishes. The 2006 and 2010 teams won the OVC tourney championships and advanced to the NCAA Regional. Jacksonville State also boasted the highest MLB draft pick from the state of Alabama in both 2009 and 2010.
Janssen began his coaching career as a student assistant at Kansas State in 1996. A year later he moved to Butler County (Kansas) Community College and also served as an associate scout for the Florida Marlins. From 1998-2001, Janssen was a volunteer assistant coach at the University of Arkansas under legendary coach Norm DeBriyn. He helped lead the Razorbacks to a 42-23 record and NCAA regional berth in 1999 as the team claimed the Southeastern Conference regular-season championship and a runner-up finish in the SEC Tournament that year.
He also had coaching stops at Northwestern (La.) State (2001-04) and Hawaii (2005), along with extensive experience coaching summer camps.
Janssen has worked on coaching staffs that have produced 10 major league baseball players, including Atlanta Braves outfielder Todd Cunningham and Donovan Hand, who has pitched with the Milwaukee Brewers and Cincinnati Reds. Both were former stars at Jacksonville State.
A native of Manhattan, KS, Janssen earned his undergraduate degree from Kansas State University in 1996. He was an All-Region VI choice at Butler County and played his final two seasons at New Mexico State. There, he was a third-team National Collegiate Baseball Writers Association (NCBWA) All-America selection as a junior and hit .401 before a season-ending injury cut short his senior campaign.
He also played one year with the Adirondack Lumberjacks in the Northeastern Independent League. Janssen is married to the former Christy Brown, of Springdale, Arkansas. The couple has three children.
Janssen's hiring culminated an exhaustive search process. He represents the first hire of Ivey, who officially came on board as athletics director, August 24th.
"We had nearly 100 applicants for the position," Ivey said. "Of those applicants we selected 12 to phone interview and six to bring to campus.  We put them through a rigorous evaluation period to vet each one appropriately to ensure we selected the best candidate.  I am confident we did that."
Video