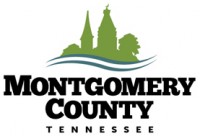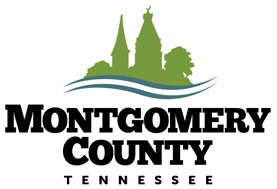 Montgomery County, TN – On Monday, October 19th, 2015 at 4:00pm, Montgomery County Government held Ribbon Cutting Ceremony for the new RichEllen Park. The park, located just off Highway 149, 2 miles past Hilltop Super Market, will serve the Cumberland Heights and Palmyra communities in southern Montgomery County.
"I didn't think this day would ever get here," stated Montgomery County Parks Director Jerry Allbert. "It's been a long time coming since the first time we stood here and dug a little dirt in the ground and said we are going to build this park. We've come a long way."
Groundbreaking for the facility was held July 30th, 2013.
The park land consists of approximately 51 acres and was purchased in 2010 from the Tinnin family for the creation of a recreational facility. The park is named after Richard and Ellen Henry-Hoffman, Annette Tinnin's parents, and thus the park became RichEllen Park.
"I think it's a gorgeous park. We thought the land was beautiful when we had the ground breaking. Then, dealing with all the issues with design, being on land with no utilites and all the work and excavation that had to be done. But I think it was well worth it. Anybody that comes out and sees it will see that it's a special facility," said former County Mayor Carolyn Bowers.
The park has eight ballfields. Four ballfields are 250′ and the other four are 210′ for little league. The pitching mounds are removable allowing for multiple different types of leagues.
The ballfields have tiered stadium seating. There are shade structures for parents and users of the park. They are not only for shade, but for ball protection as well.
There is an outdoor batting cage. The Little League storage area has the possibility for indoor batting cages. The netting and the cages are not there yet, but it is something that will be done soon.
This will be the home of Montgomery Central Little League next spring. The league will be moving from the facilities located behind Montgomery Central Elementary School.
"It's going to be great for us," said Montgomery Central Little League president Phillip Swaw. "It's going to allow us to accommodate so many more kids. We had outgrown the three fields that we had. We are absolutely looking forward to growing the league and provide baseball to the youth to this side of the county."
There are at least four tournaments that have booked the park next year. Other tournaments are already calling to book the park. So it looks like the park will be used for tournaments big time.
"We have had so much interest in the park," said Montgomery County Mayor Jim Durrett. "You know it got behind schedule a little bit. We actually had some tournaments scheduled for this September but we just weren't able to make it happen. We want our fields to be in top shape before we let some folks on it. But we have people calling about next year. So yeah, I think it's going to be awesome."
The main concession stand is in the large open air pavilion. That is were food will be cooked and prepared. It will then be moved to the other two concession stands.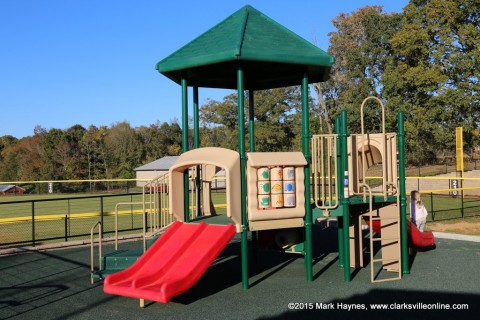 There are three playground areas. Two of the playgrounds are at the satellite concession stands. The main playground is near the maintenance building along with a small pavilion and picnic tables.
The community room will be used for umpires to change during games, but can also be reserved, when not in use, for small parties and reunions.
All the ballpark lights and parking lot lights are on satellite so they can be monitored and turned off without being on site. All utilities in the park are underground.
The open air pavilion has enough space to accommodate larger events such as craft-fairs, trade shows, fundraisers for the community, public gatherings, and you will be able to rent the facility for private events.
The park has about 1.4 miles of paved trails for walking and biking.
During the ceremony, it was revealed that the open air pavilion had been named after former Montgomery County Mayor Carolyn Bowers. "We met as a group and we thought that it was only fitting to name this building after Carolyn Bowers. This building will now be called the Carolyn Bowers Pavilion RichEllen Park," stated Mayor Durrett.
"I was totally shocked. I had no idea. I knew my husband acted a little strange this morning." stated Bowers. "This is really exciting. I just never imagined they would name any part of it after me. It's really nice. I'm really proud of all of the work that has been done out here by everybody. I hope that it's going to be enjoyed by a lot of people for a long long time."
Things that are planned to be held at the park are a Farmers Market, car shows, family reunions, and picking on the stage.
"I think it's great. It's a beautiful park on a beautiful day. I think it's a testament to what Mayor Bowers commitment was to build the counties park system up. It's something I believe in as well. I don't think you will find a nicer park in the southeast if you find one throughout the United States," stated Mayor Durrett.
Currently there are a few touch ups to be done to the ballparks before they are ready for use. The playgrounds, small pavilion and walking trails are open for public use. Current hours for the park are 6:00am until sunset.
For more information on RichEllen Park, please visit the Montgomery County Parks and Recreation web page or call 931.648.5792.
Photo Gallery