*One of an occasional series of profiles that Alley Poet likes to pen of local businesses and people who make Downtown Nashville unique…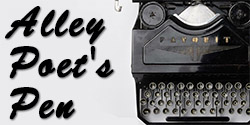 Nashville, TN – They say that color and variety make a good neighborhood or city scape. Places where your eye has something stimulating to land on can invigorate a walk, or even change a person's perspective. Most of you know I walk the Downtown Nashville city streets every day.
In spite of the bulldozing going on in Midtown and the subsequent "homogenizing" factor such overdevelopment brings, downtown (and I know, I know East Nashvillians, you've got a major indie factor!!) still seems to have its share of local flavor. One place that never disappoints is Karma Clothing on 3rd and Church.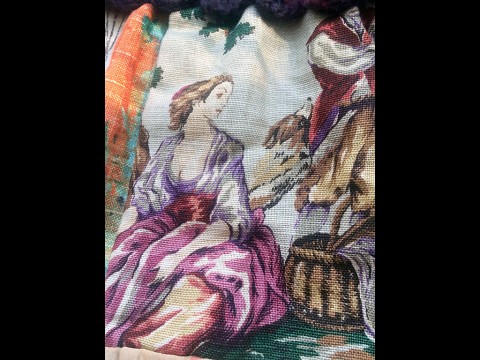 You'd never imagine, on coming upon the boutique with its colorful tapestry fabrics hanging on mannequins in the window, and its eclectic array of hippie chic (all handmade) clothing, one-of-a-kind handbags, and jewelry, that Terri Sanford, owner and seamstress, would've ever wanted to "fit in."
"Girl, in 5th grade I prayed every night to be a cheerleader," she says. "Girl" is Terri's signature term of endearment—no matter your age. She uses it liberally in her rapid-fire monologues delivered as she flits around the store—alternating petting her poodle, Bowie, (for David) on the jewelry counter above her signature leather cuffs, or fidgeting with the necklaces and chains dangling from the ceiling.
As soon as you walk through the door of Karma and smell the incense, and get a heaping dose of Terri's personality, the connection is immediate and personal. But how did this self-described "flower-child" seamstress and indie entrepreneur with the tattoos and cornflower blonde hair tied atop her head end up here amidst the high-rises and honky-tonks?
Her lace and fringed combinations and eclectic vibe (think Stevie Nicks who is one of the famous who have stopped in while in town) might have you imagining that she grew up in a cool commune. Though born in Miami, she was actually raised in Upstate, New York in a very strict Italian family—one that was also on a tight budget and could only afford one pair of Levi's that were so necessary for a "girl" growing up in the early 70's.
"Every night I would unstitch that Levi tag and sew it in to a random pair of off beat jeans—pretty crafty until some mean girl called me out on it in the lunch room 'those aren't Levi's!'" she remembers the girl yelling.
It was at that moment that she vowed to forget about fitting in. She began "crafting" as she calls it and spent a lot of time in her room just "making stuff." Her leather cuffs were her first hit, (flash forward to Nashville in the 1980's),when Terri found herself in the midst of the 2nd Avenue shopping district, back when it was filled with low-rent junk stores and artsy consignment places.
First, she placed some items on consignment and did well. Then one day walking with a friend, she saw a building with a "For Sale" sign. She knew she couldn't buy it so she asked the owner if he'd rent the first floor to her. He did: she painted it purple and set up shop. Her rent was $500 a month.
At the time, he reminded her that if the building sold, she'd have to go. But he assured her (quite hard to fathom today) that a building hadn't sold on 2nd Ave in nine years.
"It sold in six months," Terri said. But she said the Matthews Company was always good to her. "They found me another place down the street and when that sold, they found me one on Broadway, and then another on Broadway. The highest rent I ever paid was $700. But eventually, they ran out of spaces that didn't sell."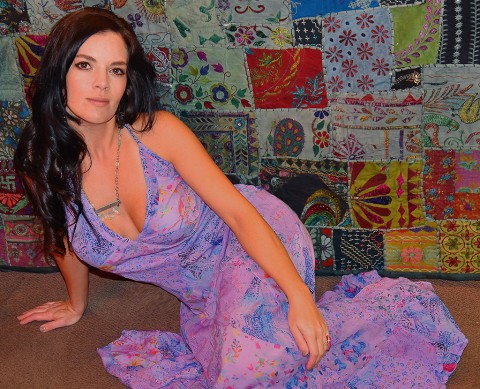 At first, Terri sold her cuffs, but mainly was ordering and selling imported goods. It was then that she had one of her frequent epiphanies.
"The things from China were always falling apart. I knew I could do better," she said. While she was delighted that her edgy leather cuffs were selling, the little girl from 5th grade kept whispering in her ear: she wanted to make "pretty things." The desire to sew was in her DNA, but like many artists with a goal, she experienced failure before success.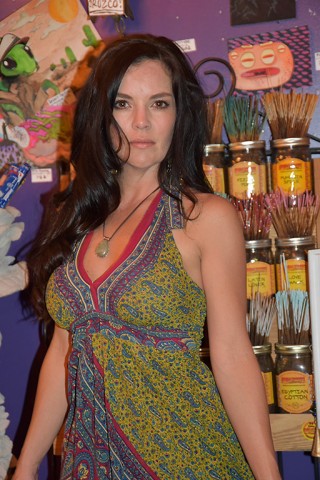 "I tried, but I kept wasting money on fabric. I didn't have the experience or guidance. But something in me kept wanting to try. I'd bring home sewing patterns and mess them all up."
It took hard times coming to Nashville to lead Terri to completely dive in to her dreams. The crunch on the economy put her at a crossroads. "It was the 90's and clothing companies required a minimum of a dozen per style. I could never afford that," the budding seamstress said.
"So I said, hey God, remember me? When I wanted to be a cheerleader in high school, you said 'no,' well I'm back and need to know: do I keep making these cuffs or plunge blindly into making clothes? Can I do it? How can I do it? Should I do it?"
Her answer came three days later when her landlord came to her and asked if she had a minute to come take a look at something.
"He led me to into an adjacent vacant building, down a long hall way, up the elevator until we reached a door that had a sign on it that read "Sewing Room." We stepped inside and he turned the light on and my jaw hit the floor; there was a real sewing room a commercial set up for real seamstresses. He looked at me and said, 'can you use any of this stuff?' and I said ummmm yes!"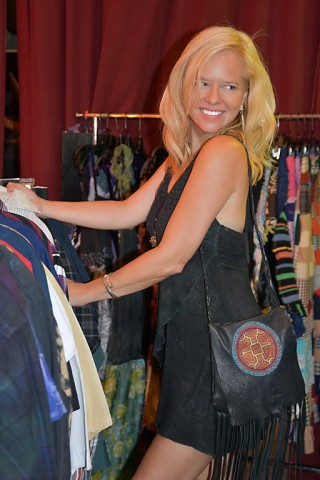 Terri had unknowingly become the heir apparent to the room of treasures courtesy of a Vegas businessman who was going to buy the building but instead took a detour to jail. Her answer to her plea with God was loud and clear "Just KEEP SEWING GIRL!"
 Since then, there have been a lot of pivotal moments for Terri—all with more than a touch of "karma" and serendipity. "There were books of fabric in that room, thread for days, machines worth thousands of dollars – I still have it and use it for my patch work creations."
In fact, it was her unusual patterns and fabrics that first drew me to the Karma store. The sight, feel and tactile sense of materials and fabric can have an immediate connection for people. For me, it was a halter top displayed on a mannequin in the window; it was a burgundy knit on the top, but had a regal fabric on the body that reminded me of material from my past when I had a house in Pennsylvania and was choosing draperies.
No wonder. Many of Terri's creations are actually made from fine upholstery fabric she's accumulated in a variety of serendipitous ways. First, there was the Harley Holt Furniture Store on Broadway that went out of business and dumped their fabric samples in the dumpster out back. Terri wasn't afraid to "dive in." "It was totally worth it," she said.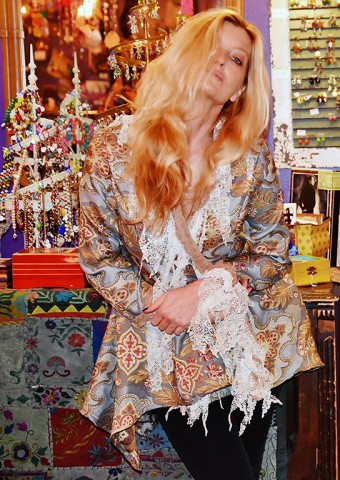 And again upholstery and fabric samples found her when she went out of town to look at a commercial sewing machine that was listed for sale. "I didn't end up wanting it, (it was a really big and scary machine!) but the man there said they were liquidating the furniture store he owned. He asked if I had a truck for a lot of the stuff he didn't want." The inventory she yielded there that help make up her ornate patchwork tops, jackets, and skirts "will outlive me," she says.
In Music City, I've become accustomed to seeing musicians swoon over a particular guitar, or a great lick. Terri is the kind of gal who cries over fabric—so in reverence for her craft that she continues to be in awe of the beauty of her crafting materials.
It's an art that is constantly teaching her as well. Sometimes, she'll take something down off display that's been there a while and tell you "you can have this half-off—I wasn't as good last year."
"If the Discovery Channel would make a show on how to make fabric, instead of candy, I'd maybe watch TV again," says Terri.
She likens her love affair with sewing to a rollercoaster ride romance. "It's so much harder than it looks! Often I'd want to give up.
"But it's like that book, you know, The Gift: I believe if you want anything, you can have it; you just have to see it, think it, and it will happen."
Terri's foray into jewelry making happened just as spiritually and almost supernaturally. It came about when she was eating watermelon in the 80's with a biker chick friend she had just made.
"I said to her: let's save the seeds and make jewelry from them." Terri describes her friend's rough southern voice saying "You like shit like that?" When Terri replied "yes," the friend said she had something special to show her. For these little miracle stories, I prefer to use Terri's own words: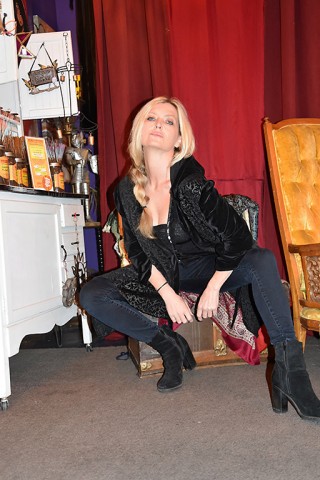 "We went to where she grew up in a biker holler off of Fesslers Lane and we walked back in the woods till we came to a little block building. She unlocked the rusty door, opened it, and low and behold, there was a workshop with beads and feathers and leather everywhere. I felt like a kid in a candy store; it was crazy with cobwebs all around, and I noticed then, that my friend was suddenly a little distant as I was jumping for joy, so I asked her.  What is this? Whose stuff is this? And she said she had an older sister who was killed on the back of a Harley a few years ago; her name was Teri and they had a business where they set up at craft fairs and biker rallies. And the name?
 It was called Terri's Leathers and Feathers…"
Terri had chills. "I couldn't believe it. I talked her into starting it back up." They did, and Terri claims the woman taught her everything she knew. (Check out the one-of-a-kind leather purse with cowhide in the accompanying photos that Terri crafted and I admired for months before buying.)
"We had a great run. Sadly, she could never get over the death of her sister, and had to leave the partnership. But Terri just kept going. Just kept sewing….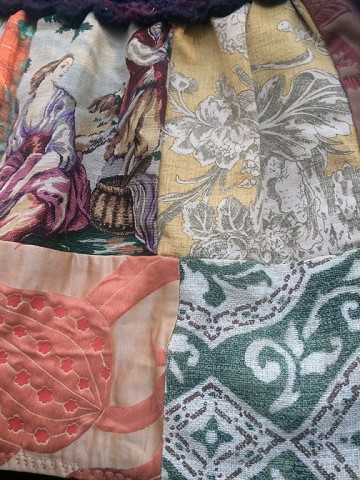 She also kept moving. Literally. Karma has been in ten total locations, including 2nd Avenue, Broadway, and Five Points. (She didn't like operating the shop in East Nash and worked hard to get back downtown, she claims.) I've been here at 3rd and Church for the past four years and I love it."
Her alternative dynamic on the street is one that locals and tourists alike both gravitate to. Having the independent Fire Finch next door, where rescue cats lounge amidst chic dresses and jewelry displays, make this end of Church Street a shopping hub that is rich in human capital—an intangible, but completely necessary element of any thriving downtown.
But Terri is going to need more than an average dose of karma and kismet to keep her place in the hub of activity that is Downtown, Nashville. The building that houses Karma has recently sold and she feels antsy. "I feel as though the writing is on the wall," she says of the tenuous situation, with her eyebrows pinched. She does not preface it with her customary "girl."
Just look at Printers Alley a few doors up from these properties. Ink on a boutique hotel deal for the property that faces 4th Avenue and backs up into the alley displaced three local businesses. A massive "Save Printers Alley" appeal and citizen efforts were helpless to stop it. Most people around the neighborhood don't have anything against a new, chic hotel, but the majority wanted to preserve the historic businesses and character as well—to combine the two worlds, if you will.
Ironically, the boutique hotel investors have received over $5 million in "encouragement from the city"—(public funding to help make their project happen) when they paid just $4.3 million for the 4th Avenue buildings.
Something is desperately wrong. The city powers that be don't seem to understand that good planning and development includes preservation, and that "preservation" should also include (at least in my book and in that of many other preservationists) the support for local businesses to remain a part of the fabric of downtown and that of Nashville—an invigorating jolt of color amidst the beige concrete of the cityscape around us. Remember, it's a patchwork that makes a city—not a sleek, one-dimensional piece of silk.
Footnote: Friend and local photographer, Gina Edwards, of GlamRockPhotography donated her time to take some shots of Karma Clothing and items, and friend, Rebecca Carroll, (as well as Gina and I) modeled for some of the one-of-a-kind items. I would like to thank Gina and Rebecca for their time, and of course Terri Sanford, owner, for her dedication to craft and her beautiful creations. It is my hope that, with help and support from interested friends and people who support local business, that we can see that Karma Clothing remains in Downtown Nashville.