APSU Sports Information

Brentwood, TN – Freshman McKenzie Dixon and junior Gina Fabbro, of Austin Peay State University women's soccer team, took home Ohio Valley Conference hardware at the tournament banquet, Thursday.
In her first season as a Lady Gov, Dixon was tabbed to both the All-OVC First Team and All-Newcomer Team, while Fabbro landed on the All-OVC Second Team.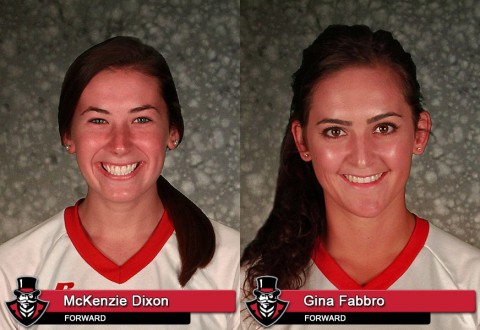 Dixon, of Bentonville, Arkansas, entered the program with high expectations following back-to-back Gatorade State Player of the Year accolades in high school.
The freshman lived up to the hype in her debut season, scoring nine goals to finish second in the OVC throughout the regular season.
Dixon also recorded two multi-goal games, including a hat trick against Western Illinois, the first by an APSU player since 2013.
Four of her nine goals came in conference action, highlighted by a pair of game-winning goals against Southeast Missouri and UT Martin to lead the Lady Govs. Dixon was awarded three OVC weekly awards in the same year – the only time the feat has been accomplished in program history – and capped off her dazzling campaign by becoming the first player to be included on both the First Team and All-Newcomer Team since Natalia Ariza and Tatiana Ariza in 2010.
"McKenzie certainly came in and contributed immediately," Austin Peay head coach Kelley Guth said. "She stepped up and really battled to score some key goals for us in conference play. It's a great award for her, and there's a lot of room for growth. It's exciting that she's a freshman who has gotten the awards she has had. I look forward to future years with her to help lead our team and bring more success."
Fabbro, of Coquitlam, British Columbia, was Austin Peay's most-consistent player down the stretch as she elevated her play in the OVC slate. Despite missing the season's first two contests, the junior racked up a career-best 10 goals, the only double-digit goal scorer in the conference. In addition, her five OVC scores ranked tied for fourth.
The Canadian has established herself as one of APSU's elite players with 24 career goals, third most in the record books behind Tatiana Ariza (54) and Ashley Beck (30). This season, Fabbro also became the third Lady Gov to net 10 or more tallies in a single year. It's the third-consecutive season in which Fabbro has garnered All-OVC hardware, and her second-straight Second Team selection.
"Gina is that kid where you can ask her to do anything and she'll do a great job," Guth said. "She has been one of our most-consistent performers and part of the core of our team. The energy from her rubs off to help the attitude of the team. She's a competitor who's out there every day giving everything she has, which her teammates see and respond to."
Murray State's Harriet Withers was voted Offensive Player of the Year, Tennessee Tech goalkeeper Kari Naerdemann earned Defensive Player of the Year and Morehead State's Abby Timm claimed Freshman of the Year. In addition, head coach of the Racers, Jeremy Groves, won Coach of the Year after an undefeated conference season.