Clarksville TN –  Clarksville Police were dispatched to a pedestrian-involved collision at 8:31am Saturday morning, December 5th, 2015 on the Highway 41A South Bypass (Ashland City Road) near Queen's Bluff Way.
Witnesses said a pedestrian running through traffic caused a collision between two vehicles when a driver had to swerve to miss him. A short time later, the pedestrian was struck by a vehicle down the street from the first incident.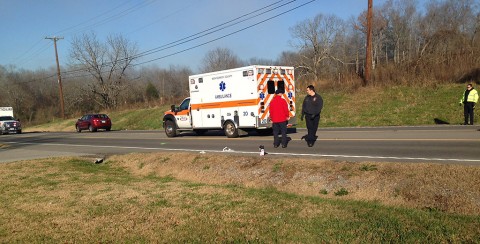 Lead Investigator Jennifer Szczerbiak stated, " The 30-year-old white male pedestrian was struck by a tan Ford Explorer."
Witnesses said the pedestrian had been acting erratically and running toward vehicles traveling down the bypass.
The pedestrian, who was conscious and breathing after the collision, was transported by LifeFlight helicopter to Vanderbilt University Medical Center. His current status is unknown.
Szczerbiak stated alcohol appears to have been a contributing factor in this incident.