Austin Peay Sports Information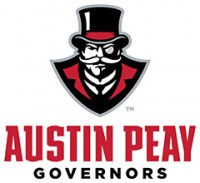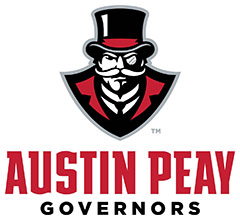 Clarksville, TN – Will Healy, former receivers coach, passing game coordinator and recruiting coordinator at Chattanooga, has been named the 19th head football coach in Austin Peay State University history.
Healy will be introduced at an 11:00am, Wednesday, press conference on the club level at Governors Stadium.
A seven-year veteran at Chattanooga, Healy served under head coach Russ Huesman in helping restore an FCS power to its former glory.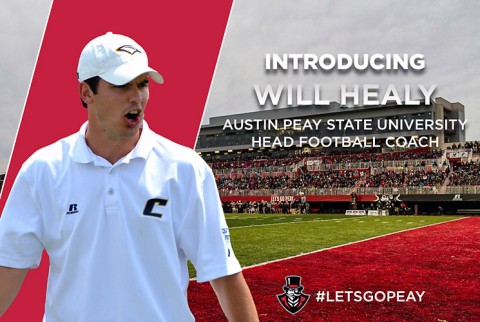 Since coming aboard in 2009, Healy has been part of a staff that had the best turnaround in school history in 2009 (from 1-11 to 6-5) and only improved from there.
The Mocs have won or shared the Southern Conference Championship each of the last three seasons, making FCS play-off appearances in 2014 and 2015.
At 30 years old, Healy becomes the second-youngest head coach in Division I after Maine's Joe Harsymiak (29).
"Will is a bright, outstanding up-and-coming coach," said Austin Peay Athletics Director Ryan Ivey. "As a rising star in the profession, he brings an energy and enthusiasm into the program that will allow us to be at our best both on the field and in the community. His pedigree with Coach Huesman at Chattanooga and the success they had in resurrecting that program places him in a unique position to help us get our program turned around and places us on a successful trajectory for the future."
Healy's work in the passing game has had much to do with turning Jacob Huesman into a three-time Southern Conference Offensive Player of the Year. This season, with Healy serving as passing game coordinator, Huesman threw for 2,117 yards and 12 touchdowns while running for 1,244 yards and 13 scores en route to STATS FCS Second-Team All-American status.
A Chattanooga native, Healy's had the magic touch with quarterbacks. His first job at Chattanooga in 2009 was as quarterbacks coach, and he excelled in his first Mocs season tutoring future NFL draft pick BJ Coleman.
Since moving to coach receiver's in 2010, Healy has had ample success as well. Joel Bradford became an All-American in 2010, posting 81 catches for a school-record 1,284 yards. Tommy Hudson and Clarksville native C.J. Board also earned All-SoCon honors in 2014 under Healy's tutelage.
Additionally, Healy's worked with two passing programs ranked in the FCS Top-10 in 2010 (eighth in yards) and 2014 (sixth in passer rating).
"As passing game coordinator at Chattanooga, Will was involved in turning the Mocs into a top-flight offense. He brings a wealth of offensive knowledge and a track record of success to the job, which will translate into an offensive style that will be both successful and appealing to fans, players and recruits."
Healy's also been responsible for building the foundation of Chattanooga as the program's recruiting coordinator. With Healy taking the lead, Chattanooga had top-ranked recruiting classes in 2012-14, including the top-ranked class in FCS in 2013 and 2014.
"As a Tennessee native and a long-time assistant at one of the top FCS programs in the region, Will has had ample success on the recruiting trail. We know his addition will help us attract the state's top talent and turn Austin Peay into the go-to destination for that talent."
A former quarterback, Healy knew success as a player as well. He was a team captain for the Richmond team that won a 2008 FCS National Championship and appeared in 31 career contests for the Spiders. His work was so exemplary that when Huesman, then Richmond's defensive coordinator, took Healy with him to Chattanooga when he took the head coaching position after the 2008 season.
Healy takes over a program from Kirby Cannon on the heels of a 1-34 stretch during the last three seasons. The Govs return plenty of talent in 2016, as 40 of 44 players listed on the final two-deep are slated to be back.