The 142th Meeting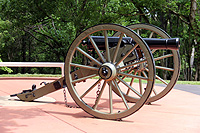 Clarksville, TN – The next meeting of the Clarksville (TN) Civil War Roundtable will be on Wednesday, January 20th, 2016 at the Bone & Joint Center, 980 Professional Park Drive, right across the street from Gateway Medical Center. This is just off Dunlop Lane and Holiday Drive and only a few minutes east of Governor's Square mall.
The meeting begins at 7:00pm and is always open to the public. Members please bring a friend or two – new recruits are always welcomed.
Topic: "Abraham Lincoln and the Russians"
In the midst of the U.S. Civil War most members of the international community observed and waited to decide which side they were going to support.
The Russians, however, were not as much concerned about the course of the War to determine which side to support as was the case with the British and the French.
Instead, the relationship between the U.S. and the Russian Empire during the Civil was based on the politics of the day. The fact of the matter remains that Alexander II, Tsar of the Russian Empire, emancipated his serfs by decree on February 17th, 1861. In a show of solidarity he keenly supported the policies of Abraham Lincoln during the Civil War.
This presentation will focus on how the Russians expressed their solidarity with the embattled U.S. President and what this meant to the overall relationship between the U.S. and Imperial Russia.
Our esteemed speaker, Dr. John W. Steinberg, is Professor and Chair of the Department of History and Philosophy at Austin Peay State University. He earned his Ph.D. in Russian History from The Ohio State University. He has spent extended periods of time researching in archives in Russia, France, Great Britain, and the United States.
Currently he is co-series editor the project entitled: "Russia's Great War & Revolution."