Austin Peay State University

Clarksville, TN – Austin Peay State University men's tennis team dropped a narrow 4-3 decision against Chattanooga in its season opener, Saturday.
The Governors began the day finding success in doubles play, leading to a much-needed point. Juniors Aaron Jumonville and James Mitchell knocked off Pablo Llebeili and John Peacy, 6-2, to set the tone at the No. 1 position.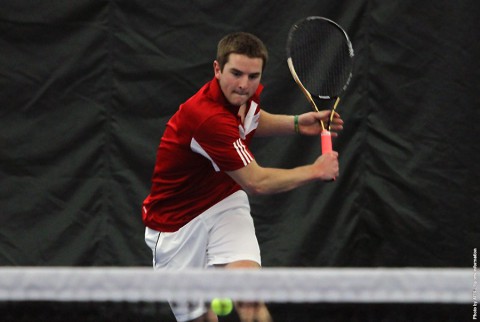 After a loss by junior
Manuel Montenegro
and newcomer
Almantas Ozelis
to Luke Saunders and Lucas Plesky, 6-2, the final pairing of sophomore
Aleh Drobysh
and freshman
Alex Kartsonis
pulled out a 7-6(5) win over Michael Birnbaum and Nick Wingord.
However, the Mocs went 4-2 against Austin Peay in singles play, leading to their first victory of the season.
Jumonville cruised to a 6-4, 6-2 victory over John Peacey from the No. 1 spot, while Mitchell added a win from No. 6 over Paul LaHue, 4-6, 6-2, 6-2. But Chattanooga captured the remaining points – Plesky def. Montenegro, 6-7(5), 6-1, 6-4, Wingord def. Drobysh, 6-1, 6-4, Saunders def. Ozelis, 7-5, 6-4, and Llebeili def. freshman Chad Woodham, 6-3, 5-7, 7-6.
APSU will serve a week-long break before returning to action, February 12th, at Lipscomb.
Box Score
Singles
No. 1 – Aaron Jumonville (APSU) def. John Peacey (UTC), 6-4, 6-2
No. 2 – Lucas Plesky (UTC) def. Manuel Montenegro (APSU), 6-7(5), 6-1, 6-4
No. 3 – Nick Wingord (UTC) def. Aleh Drobysh (APSU), 6-1, 6-4
No. 4 – Luke Saunders (UTC) def. Almantas Ozelis (APSU), 7-5, 6-4
No. 5 – Pablo Llebeili (UTC) def. Chad Woodham (APSU), 6-3, 5-7, 7-6
No. 6 – James Mitchell (APSU) def. Paul LaHue (UTC), 4-6, 6-2, 6-2
Doubles
No. 1 – Jumonville/Mitchell (APSU) def. Llebeili/Peacey (UTC), 6-2
No. 2 – Saunders/Plesky (UTC) def. Montenegro/Ozelis (APSU), 6-2
No. 3 – Drobysh/Alex Kartsonis (APSU) def. Michael Birnbaum/Wingord (UTC), 7-6(5)