The 143rd Meeting.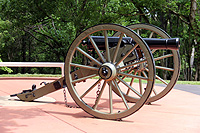 Clarksville, TN – The next meeting of the Clarksville (TN) Civil War Roundtable will be on Wednesday, February 17th, 2016 at the Bone & Joint Center, 980 Professional Park Drive, right across the street from Gateway Medical Center. This is just off Dunlop Lane and Holiday Drive and only a few minutes east of Governor's Square mall.
The meeting begins at 7:00pm and is always open to the public. Members please bring a friend or two – new recruits are always welcomed.
Topic: "General William Bate of Tennessee"
William Bate was one of the native Tennessee generals in the Civil War. Born in 1826, Bate was an American success story, rising from a little educated steamboat clerk to a United States senator. In between, Bate, served in the Mexican War, was a newspaper editor, a lawyer and a member of the Tennessee General Assembly.
With the coming of war in 1861, Bate enlisted as a private but was quickly elected as colonel of the 2nd Tennessee Infantry raised in the Gallatin area. He commanded the regiment at Shiloh and was badly wounded, taking him out of the war for several months.
In early October 1862, Bate was promoted to Brigadier General and given brigade command. He led his brigade from Tullahoma through Chickamauga and the rest of 1863.
In February 1864, he was promoted to Major General and given a division in William J. Hardee's Corps. Bate commanded the division from the Atlanta Campaign through the end of the war in North Carolina but not without controversy in particular in the Battle of Dallas (GA) at at Shy's Hill in Nashville in December 1864. He was fearless in battle suffering three combat wounds and having six horses shot from under him.
After the war, Bate returned to practicing law in Tennessee and became Tennessee's governor in 1882 followed by entering the U.S. Senate in 1886. Bate died in March 1905 and is buried in Mount Olivet Cemetery in Nashville.
In 1908, Park Marshall wrote a biography on William Bate that has been out of print for many years. In 2014, our own Ross Massey republished this biography with annotation and new appendices that adds more to our understanding of this Confederate general. This will be the topic for the February Nashville CWRT.
Ross Massey is historian of the Battle of Nashville Preservation Society and has written a terrific guide book to that battle for Civil War tourists. He has been seen on Civil War television shows, has been published on various aspects of the Battle of Nashville and has led countless tours of the Civil War in Middle Tennessee – and he is a member of the Nashville CWRT. Ross will have copies of his Bate book for sale at this month's meeting.