Clarksville, TN – Title Boxing Club has been open in Clarksville for three years and recently received a new look. Remodeled to give its members a better experience, now members have an easier check-in process, easy view and usage of the ring, lockers to store their belongings when working out, and a better layout of the weights and workout area.
Owner Kris Bender was making everyone feel welcome and encouraging them to explore the club.
Attendees of the grand re-opening were able to witness and participate in mini classes that consisted of warm-up, boxing rounds, and a core workout.
Title Boxing Club also hosted the Chamber of Commerce Business After Hours event at the same time following a ribbon cutting ceremony.
Many Chamber members were there along with current members of the boxing club.
ID Life, a vitamin and supplement company had products on display, Dickey's Barbecue and Smoothie King handed out samples, Dr. Greg Fryer from Medical Direct Care talked about health issues, Taylor Spine and Sports Rehabilitation had their massage therapist and physical therapist answering questions and demonstrated massage techniques, Aqua Color Lounge answered questions about improving your physical appearance, others were in attendance as well, and the event also included a raffle and a photo booth for anyone to take photos with the boxing gear.
Rachel Hamrick has been a Title Boxing member for a year. Hamrick was there in workout gear and participated in the workout demonstrations.  "Title has changed my entire life, from working out and the energy here, working out with people who care, who check in with you when you are here and check in with you if you are sick at home and can't come in for a class, it is like a family in here. I would recommend Title to everyone," said Hamrick.
Andano Pryor Turner ll was a member for five to six months before becoming a trainer at the club. He passed all of the requirements and training needed to become a trainer this past September. Turner tries to get members to push themselves by motivating and pushing themselves.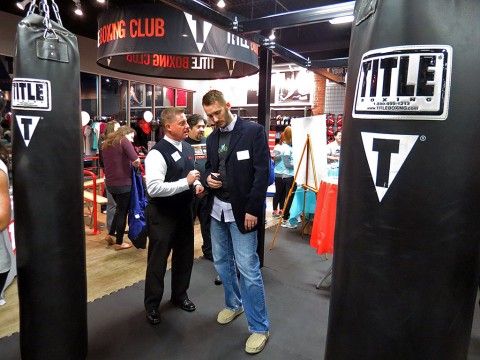 "I get a lot of good feedback after the class, during class they don't like me so much, but after I see good positive results. Members that come in regularly are making so much progress and they have changed their lifestyles, they have lost weight, started weight training and progressed so much. Everyone is welcome, you do not have to know anything about boxing, you can grow with the trainers, get a great cardio workout, and the trainers will help you any way possible," Turner said.
Title boxing is growing according to owner Kris Bender. Inc. magazine has named Title Boxing Club as the number one fastest growing franchise. This is due to a "1774 percent three year growth with 175 clubs open or under construction and 250 clubs in the planning process," as stated in the Inc. Magazine article.
There are 60 heavy bags for members to use during their boxing workouts. Classes are held regularly throughout the day and evening and members can also come in and work out during the Club's open hours.
For more information about Title Boxing Club call 931.245.2820.