Fort Campbell, KY – A special scholarship opportunity is now available to sons and daughters of Service Members who live in a Lendlease privatized military community, like Campbell Crossing, and attend the installation's DoDEA high school.
Sponsored by Lendlease Community Fund, BlueStar Scholarships will award scholarships up to $5,000 to eligible high school seniors.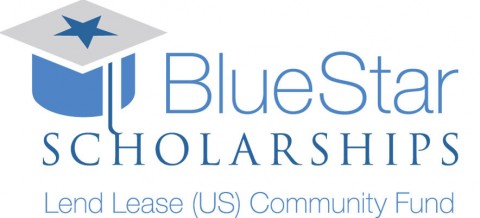 The BlueStar Scholarships program is now open and accepting applications through April 4th, 2016.
"BlueStar Scholarships was created to recognize the service of the military personnel living in our homes and communities and to honor the many sacrifices of their children," said Phillip Carpenter, Lendlease Community Fund President. "We hope this scholarship will enable more students to pursue higher education and develop into valued leaders in their fields of study, as well as give back to the communities in which they live."
Now in its fourth year, BlueStar Scholarships has committed nearly $300,000 to eligible students to date.
For program materials, including the application form and eligibility requirements, Click Here. Students can also see their high school guidance counselor to obtain information. Don't delay, applications are due April 4th, 2016.
Should you have any questions about the Lendlease Community Fund BlueStar Scholarships program, application process or requirements, please contact 615.324.7529 or email
About the Lendlease Community Fund
The Lend Lease (US) Community Fund is a nonprofit organization that focuses its efforts on supporting the Military men and women who live in our homes and neighborhoods and the communities where Lendlease employees work and live. We support growth and development by funding projects that address community challenges in the areas of housing, education, health, economic development, and environmental sustainability and create or support programming that improves the quality of life for military families who sacrifice so much for us.
For more information, visit www.lendlease.com
About Lendlease
Lend Lease is a leading international property and infrastructure group. Listed on the Australian Securities Exchange and with circa 16,500 employees worldwide, the firm's capabilities span the property and infrastructure spectrum.
In the US, Lendlease' s public partnership business is the nation's leader in public/private community development. With a focus on creating sustainable value, Lendlease creates communities that regenerate our environment, enrich people's lives and foster economic growth. Lendlease has worked extensively with the Department of Defense through the Military Housing Privatization Initiative (MHPI), a program that provides for the transfer of military housing assets to private sector companies. With over 40,000 residential units, 192 apartments and more than 11,600 hotel rooms in its portfolio, Lendlease will finance, develop, build, renovate and operate these sites for at least 50 years.
We create innovative and sustainable property solutions, forging partnerships and delivering maximum benefits to clients, investors and communities. Safety is our number one priority and Lend Lease is committed to operating Incident & Injury Free wherever we have a presence.
For more information, visit www.lendlease.com