Blanchfield Army Community Hospital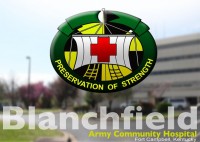 Fort Campbell, KY – Dwight D. Eisenhower Army Medical Center and Blanchfield Army Community Hospital launched the Army's first pilot Telehealth primary care services within BACH's Emergency Center February 2nd, 2016.
The Telehealth pilot between these two health facilities incorporates a process to redirect non-emergency patients from the BACH emergency center to a primary care provider at DEAMC using the Telehealth platform, which is a hub for secure integrated telemedicine encounters. The mobile medical system uses video conferencing and software to capture, store and forward live medical images securely between health care providers in separate locations.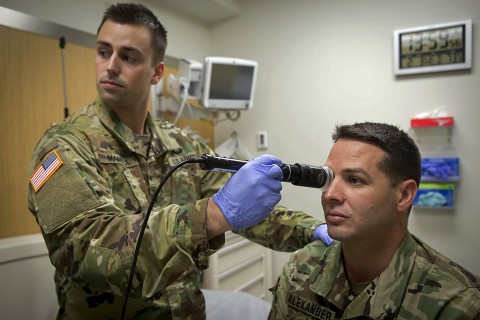 The Vice Chief of Staff of the Army and Army Deputy Surgeon General directed the pilot phase launch to prove virtual patient-centered medical home encounters can be used to reduce patient wait times in emergency departments.
In addition, the objective is to determine if the concept of Telehealth primary care can be used in support of forward deployed Forces.
"Having this Telehealth pilot available at Blanchfield and the home of the 101st Airborne Division and Fort Campbell is exciting to see," said Maj. Gen. Gary J. Volesky, commanding general of the 101st Airborne Division (Air Assault) and Fort Campbell.
"The potential for this technology to expand to our troops downrange has real implications for our ability to take care of soldiers in austere environments as far forward as possible," Volesky said. "Tele-health in essence pushes medical capabilities to the soldier versus bringing the soldier to the capability allowing commanders to safely keep soldiers in their units."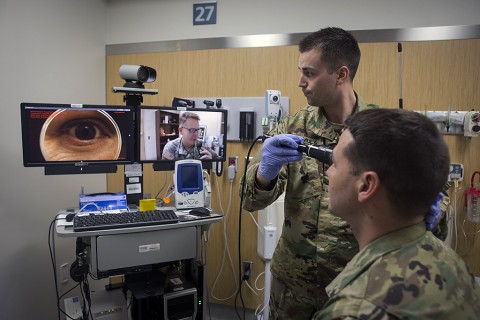 In December, the Regional Health Command – Atlantic (Provisional) partnered with Blanchfield Army Community Hospital and Dwight D. Eisenhower Army Medical Center to conduct a proof of concept pilot to determine the feasibility of providing primary care services by using Telehealth technology.
"The goal of the pilot is to determine if virtual Patient Centered Medical Home encounters can be used to reduce patient wait times in an emergency department and to prove the concept that primary care can be used in conjunction with Telehealth in support of forward deployed Forces," explained Maj. Daniel Yourk, Nurse Methods Analyst, in BACH's Emergency Center.
BACH commander Col. Telita Crosland expressed pride in her team ensuring that this new technology used within her medical facility offers safe and quality care to patients receiving care within the emergency center.
"Telehealth has the potential to enable our health system to better meet the needs of our patients in a more efficient manner. Moving health care from within a defined medical structure to wherever the patient is would be a real game-changer for our community and organization. The opportunities are vast," Crosland said.
The successful completion of this pilot will provide the Army Medical Command and the RHC-A(P) with a new approach to primary care that has several Dependable, Achievable, Replicable Telehealth (DART) goals which include:
Improving readiness by implementing new technologies and patient care delivery models to assist commands in achieving their medical readiness goals in both a garrison and deployed environment.
Allow RHC-A (P) Commands to use providers among Health Readiness Platforms (HRPs) to support surges and unforeseen service requirements with a dependable infrastructure of network technology and communications;
Provide cost-effective, comprehensive, efficient, and timely access to quality outpatient Telehealth care regardless of the patient location.
As Crosland walked through the Telehealth pilot clinic inspecting the process carefully, she said she was impressed.