APSU Sports Information

Clarksville, TN – As much success Austin Peay State University has enjoyed in track and field during the last few seasons, the Governors have also seen their share of good fortune, namely in the injury department—at a time when many teams are banged up and missing key pieces, Austin Peay entered OVC Indoor and Outdoor Championship action largely intact over the past few seasons.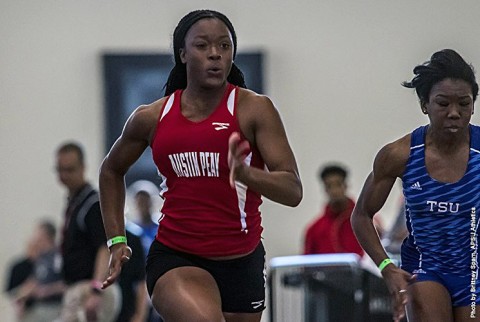 Which makes the 2016 OVC Indoor Championships in Nashville such a challenge. Not only will Austin Peay be going up against the conference elite, they'll be doing so minus some of the program's biggest names.
Chancis Jones and Kaylnn Pitts, NCAA Preliminary qualifiers last spring, are out; neither has competed since January. Amia Butler and Christiana Harris will both miss the championships, robbing Austin Peay of its two biggest threats in the pentathlon. Michella Carter, Austin Peay's lone full-time thrower, was hurt this week and will miss the event, while a cavalcade of Governors are nursing injuries but will attempt to give it a go this weekend.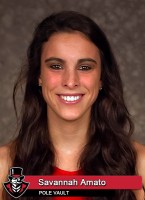 "Everybody's hurt and then some," said head coach Doug Molnar. "It's going to be tough with all these girls out. Our jumps area particularly has just been devastated.
"But with that said, I'm proud of this group. They could easily fold up and pack it in with all these injuries, but I don't think they're going to do that. They'll scrap for every point and place."
For the first time since the heyday of recently-minted Austin Peay Athletics Hall of Famer Carrie Burggraf, the Governors are not only expected to contend in the pole vault—there's no other way to describe APSU's chances than as that of the favorite. Freshmen Savannah Amato and Dascha Hix rank as the OVC's top two pole vaulters entering the weekend by a pretty wide margin—Amato (12-6.00) and Hix (12-0.50) each have at least two inches on the rest of the field.
Senior Kymmalett Ross represents the Governors brightest spot on the track. The Northwest High School product ranks in the OVC's top-five in both the 60m (fifth, 7.61) and 200m (second, 24.37) dashes and will also run a leg for Austin Peay's 4x400m relay squad. Senior Breigh Jones has been battling hamstring troubles throughout the duration of the indoor campaign; she will attempt to repeat as 400m indoor champion.
A pair of juniors, Myiah Johnson and Terri Morris, also represent strong chances for Austin Peay to find a spot on the podium this weekend. Johnson currently ranks fourth among OVC athletes in the 60m hurdles (8.55), less than two-tenths of a second outside the top-three, while Morris' 56.34 in the 400m at last weekend's Buckeye Tune-Up ranks fifth among OVC athletes.
Molnar knows a number of other Governors will have to bring their A-game for Austin Peay to be a competitor this weekend.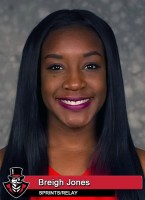 "We told our younger athletes that they're going to have to step up and contribute right away," Molnar said. "We need Sonja White to produce in the hurdles and the 200, Allysha Scott in the 400 and Unjala Lester and Molly Jordan to bolster us in the middle distances. And since we're so thin in the jumps, we have to get a lot out of Nia (Gibbs-Francis) and Keyondria (Ross) in the high jump."
Action is scheduled to begin 9:00am, Friday, at the Gentry Center in Nashville with the beginning of the pentathlon. Field events get underway at approximately 2:30pm and preliminaries for the track events are slated for a 3:00pm start. Saturday's action kicks off at 11:00am.