Clarksville, TN – Austin Peay State University alumni Lynn Von Hagen dreamed of working with animals as a young person. She donated to conservation groups and gave her time and talents to Freedom Farm Animal Sanctuary, a domestic animal rescue organization in Hendersonville Tennessee.
However, as is the case for many people, Von Hagen was forced to postpone her dreams of pursuing studies in zoology, ecology and animal biology and concentrate on earning a living.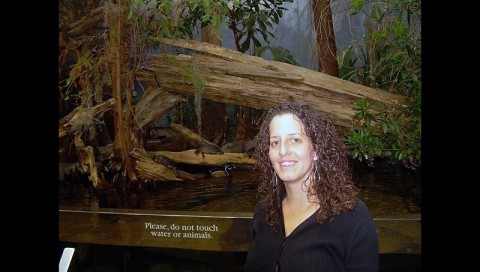 "I got stuck working in restaurants for the last 25 years," Von Hagen said. "Then, after getting married in 2012, my husband said, 'You should go back to school. It's what you want.'"
Von Hagen took her husband's advice, enrolling at Austin Peay State University, where she earned a Bachelor of Science degree in biology in December 2015. Now 43, Von Hagen has taken another step toward realizing her dreams by earning a graduate teaching assistantship at Western Kentucky University's Schulte Behavior Lab.
Working alongside WKU biology professor Dr. Bruce Schulte, Von Hagen will soon travel to Kenya to study the very same wildlife she admired as a child.
Schulte is a leader in his field, studying biodiversity, elephant behavior and ecosystem functions in the Tsavo ecosystem in Kenya. His work has been featured in reports by, among other outlets, the BBC and the African Journal of Ecology.
Von Hagen began her studies at WKU in January, where she is also teaching laboratory sections. This summer, Von Hagen plans to spend 4-6 weeks in Kenya, Africa, conducting research as part of her assistantship. That stay will be increased to eight months in 2017 before completion of her thesis in 2018.
"The focus of my work and thesis will be Human Elephant Conflict (HEC) in the Kasigau Wildlife Corridor in Kenya, which is between Tsavo East and Tsavo West National Parks," Von Hagen noted. "We will be exploring the efficacy of different mitigations techniques, as well as experimenting with newer ones."
An accomplished student during her time at APSU, Von Hagen was awarded with, among other honors, the National Science Foundation S-STEM scholarship and an Office of Undergraduate Research Summer Undergraduate Research Fellowship. The impact she made as a student at APSU, Von Hagen said, was rewarded when she looked for graduate opportunities in her field.
"I had been searching for a graduate position when (APSU professor of biology) Dr. Cindy Taylor ran into the brother of Dr. Schulte, who let her know that he was looking for a graduate student," Von Hagen said. "A few emails, an hour long phone interview and a day of interviews with professors landed me the position at WKU.
"To say that I am excited for this opportunity is quite an understatement."
For more information on the APSU Department of Biology, visit www.apsu.edu/biology