UT Athletics Department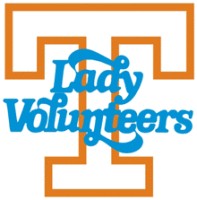 Sioux Falls, SD – Tennessee's impressive 2016 NCAA Tournament run came to an end on Sunday as the Lady Vols fell to Syracuse, 89-67, in the Sioux Falls Regional Championship Game at the Denny Sanford Premier Center.
Diamond DeShields led No. 7 seed Tennessee (22-14) with a double-double of 20 points and 10 rebounds.
Syracuse (29-7), the region's No. 4 seed, won the game with impressive 3-point shooting (14-of-30) to advance to its first-even Final Four.
DeShields shot 8-of-21 from the field and her 10 rebounds led all players. She also had five assists. Jaime Nared had 14 points, nine rebounds and six assists.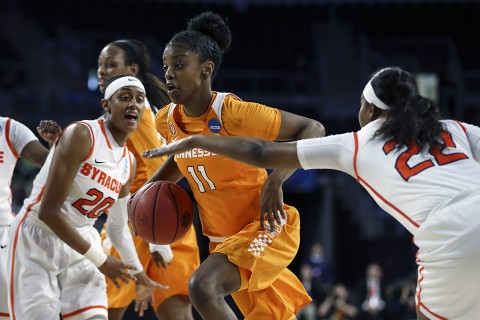 In her final game for Tennessee, senior
Bashaara Graves
tallied 11 points on 3-of-8 shooting with five rebounds and one assist. Graves finishes her UT career as one of just five players with 1,000 points and 1,000 rebounds. With five boards on Sunday, she ended her career with 1,044 rebounds, passing Sheila Frost (1,043 from 1985-89) for third-most in program history.
DeShields and Mercedes Russell were named to the 2016 Sioux Falls Regional All-Tournament Team. In UT's four NCAA Tournament games, DeShields averaged 17.0 points, 6.0 rebounds and 4.0 assists and Russell averaged 13.0 points, 10.3 rebounds and 1.3 assists.
Syracuse pulled away in the fourth quarter, outscoring UT in the final 10 minutes, 26-11.
The Lady Vols used a 13-5 run in the middle of the third quarter to pull to within 54-51 with 3:21 on the clock. Syracuse outscored UT, 9-5, in the closing minutes of the third quarter to take a 63-56 lead into the fourth. DeShields had the hot hand for Tennessee in the third quarter, scoring 12 points, and Nared had eight.
The Orange took a 41-35 lead into halftime after relying heavily on 3-pointers (9-of-18) in the first 20 minutes of play. Alexis Peterson led Syracuse with 11 points at the half and was 3-of-4 from beyond the arc. DeShields led UT with eight first-half points. The Lady Vols scored 18 of their 35 points in the paint and had a 23-17 rebounding advantage.
Syracuse knocked down five 3-pointers in the second quarter during a 19-5 run that put the Orange up, 39-31, with 2:43 left in the first half.
Tennessee had a 22-20 lead after the first quarter. The Lady Vols worked the paint, scoring 13 points inside and made five of their last six shots of the quarter. Syracuse relied on 3-point shooting (4-of-7) to keep pace with UT in the first 10 minutes.
Tennessee In The NCAA Tournament
The Lady Vols are 123-27 all-time in the NCAA Tournament. UT is 18-10 all-time in the Elite Eight.
Bashaara Graves Finishes Fantastic UT Career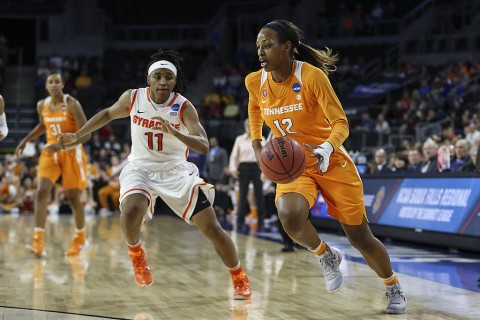 Bashaara Graves recorded five rebounds to push her career total to 1,044 and pass Sheila Frost (1,043 from 1985-89) for third on Tennessee's all-time rebounding list.
Graves also notched 11 points and now has 1,509 career points, passing Gwen Jackson (1,508 from 1999-2003) for 19th place in Tennessee history. Graves also became the 20th student-athlete to reach the 1,500 point plateau, she is the fifth member of the 1,500 point, 1000 rebound club.
In her final game, Graves earned her 128th career start, surpassing Meighan Simmons (2010-14) for fifth all-time in Tennessee history for career starts.
Miscellaneous Notes
Tennessee finished the season with six wins in its last eight games.
Jaime Nared recorded a career-high six assists. She has had five assists twice in her career including five in the Sweet 16 matchup against Ohio State. Diamond DeShields finished with 20 points, marking the 10th time this season and the 24th time in her career she has scored 20 or more points. It is the third time she has scored 20 or more in a NCAA Tournament game.
The Lady Vols scored 22 points in the first quarter to mark their third-straight game with 20 or more points in the first quarter. It was the first time all season the Lady Vols had accomplished that after scoring 20 vs. Arizona State and 23 vs. Ohio State.
The Lady Vols are 1-1 against the Orange this year. UT had previously defeated Syracuse, 57-55, on November 20th in Knoxville, TN.
Syracuse was 9-of-18 from 3-point range in the first half. Tennessee had allowed nine 3-pointers for an entire game just twice entering Sunday's game. Virginia Tech made nine treys on December 6th and Florida made nine treys on January 7th.