APSU Sports Information

Clarksville, TN – APSU men's tennis team showcased its will to win Saturday afternoon at the Governors Tennis Center, battling Ohio Valley Conference foe Belmont to a 4-3 decision.
The match was Austin Peay State University's final home contest, with its home court advantage proving to be important in conference play.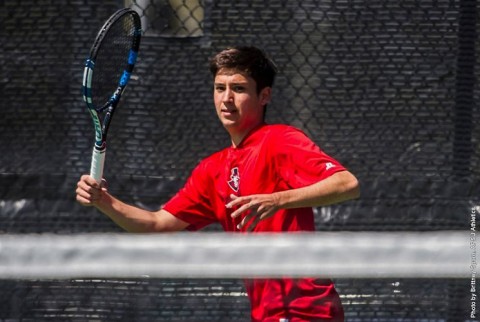 The Govs (6-8, 5-2 OVC) finish the season 5-1 in Clarksville, including a five-match winning streak to close out the schedule.
The Bruins (8-9, 4-4 OVC) had no answer for APSU's surging No. 2 doubles tandem – Almantas Ozelis and Aleh Drobysh – as the Govs made quick work of Stephen Goldman and Zak Khan, 6-3. But after Belmont's Bruno Russo and Adam Rudowski defeated Chad Woodham and Alex Kartsonis, 6-2, the center of attention was on the No. 1 match.
In a tight battle between both team's top players, Aaron Jumonville and Manuel Montenegro secured the doubles point, fighting for a 7-6 win over Robin Demasse and Cedric Dujacquier.
Singles play opened on a positive note for Austin Peay as Drobysh was successful against Khan, 4-6, 6-2, 6-1. Ozelis followed suit, powering over Demasse, 6-3, 3-6, 6-2, at the No. 2 slot. The Govs made it three wins in a row when Montenegro overcame a deficit to knock off Rudowski, 4-6, 7-5, 6-2, sealing the win.
Jumonville engaged in a thrilling match with Dujacquier, only to fall 6-2, 6-7(5), 7-6(7) despite a valiant effort. To end the day, Goldman defeated Kartsonis at No. 5, 8-7, and Russo topped Woodham, 8-5.
Austin Peay hits the road for a nonconference dual against Middle Tennessee, 2:00pm, Tuesday, before its final regular season contests next weekend.
Box Score
Singles
1. Cedric Dujacquier (BELM) def. Jumonville, Aaron (APSU) 6-2, 6-7 (5-10), 7-6 (10-7)
2. Ozelis, Almantas (APSU) def. Robin Demasse (BELM) 6-3, 3-6, 6-2
3. Montenegro, Manuel (APSU) def. Adam Rudowski (BELM) 4-6, 7-5, 6-2
4. Drobysh, Aleh (APSU) def. Zak Khan (BELM) 4-6, 6-2, 6-1
5. Stephen Goldman (BELM) def. Kartsonis, Alex (APSU) 8-7
6. Bruno Russo (BELM) def. Woodham, Chad (APSU) 8-5
Doubles
1. Jumonville, Aaron/Montenegro, Manuel (APSU) def. Robin Demasse/Cedric Dujacquier (BELM) 7-6
2. Drobysh, Aleh/Ozelis, Almantas (APSU) def. Stephen Goldman/Zak Khan (BELM) 6-3
3. Bruno Russo/Adam Rudowski (BELM) def. Woodham, Chad/Kartsonis, Alex (APSU) 6-2