APSU Sports Information

Owens Cross Roads, AL – Jessica Cathey, who is enjoying her finest season as an Austin Peay State University women's golfer, has been named All-Ohio Valley Conference for a third time.
That was announced Monday at the annual awards banquets held following the first round play in the OVC championships.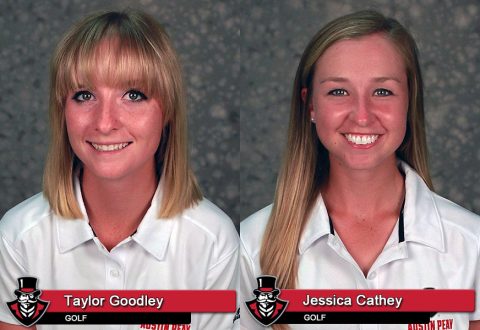 Meanwhile, freshman
Taylor Goodley
, who owned the team's second-best win percentage behind Cathey, was named to the OVC All-Newcomer team.
Entering the OVC tournament, Cathey was averaging 76.48 for the year but a half stroke less this spring. It was the second lowest scoring average in history behind Chelsea Harris 75.85 in 2010-11.
In fact, Cathey recorded four Top 10 finishes in five outings (the other was an 11th-place finish), including two medalist honors. She has three for the year. Cathey owned an impressive team-best 77.4 winning percentage entering the OVC championships. Cathey saw all but one regular-season round count this season—24 of 25 rounds.
Taylor Goodley, along with her twin sister Ashton, had a huge impact on APSU's golf program this season. In addition to owning the team's second-best win percentage (71.4), the El Dorado, Illinois native owned 17 rounds in the 70s in her first season in route to a 78.24 scoring average. She saw 21 of 25 rounds count in the team score.
"It's definitely an honor for both—it is well deserved," APSU coach Sara Robson said. "Jessica has had the lowest scoring average of her career this year. She has played some great golf this spring. She has played some great rounds and saved some rounds, to be honest. Some of her up and downs like today are just phenomenal. I am glad she is getting honored for her hard work as a senior.
"It is nice for her to make that All-Newcomer team to start off her career strong. I know she will look forward to building on that.
"She had a few hiccups, learned some hard lessons as a freshman she is going to take and not be in that position again. She is competitive. Taylor is unorthodox but she finds a way to get it into the hole."