APSU Sports Information

Clarksville, TN – For the sixth consecutive season, Austin Peay State University track and field will be sending at least one athlete to the NCAA East Preliminary, with freshman pole vaulter Savannah Amato slated to represent the red-and-white Friday, May 27th in Jacksonville.
Amato, Austin Peay's first pole vault qualifier since Carrie Burggraf, a three-time qualifier from 2008-10, is the third Austin Peay freshman in four years to advance to Preliminary competition, after Breigh Jones (2013) and Kaylnn Pitts (2014).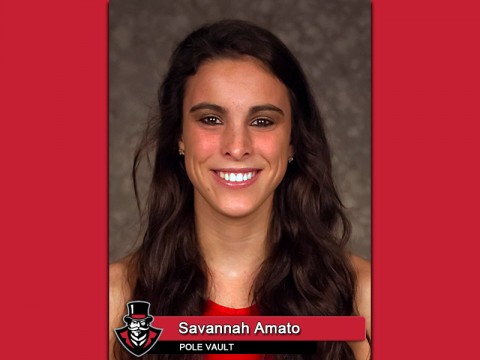 She checks in 41st overall in the region, and will be one of 11 Ohio Valley Conference female student-athletes competing in the three-day event hosted by North Florida.
"Right now, I've got her pegged as one of the top 15 freshmen in the country," said head coach Doug Molnar. "She made a big improvement this year and we're going to go down there, vault, try to pr and see what happens.
"She had a great year and qualifying is a big deal. Qualifying as a freshman gives her experience and hopefully she can build on that each year."
Amato burst onto the scene during indoor season, winning the pole vault in the Ed Temple Invitational in her second event and posting an indoor-best 3.81m (12′ 6″) for the win at the Thundering Herd Invitational. She earned bronze in the vault at her first OVC Indoor Championship, hitting 3.60m (11′ 9.75″).
Outdoor season is where Amato made her true mark, picking up four wins including her first career OVC Championship gold medal. She won the Margaret Simmons Invitational, APSU Invitational and Missouri State Invitational, while also breaking the four-meter mark at both the Hilltopper Relays (4.01m; 13′ 1.75″) and in her gold-medal winning performance at the 2016 OVC Outdoor Championships (4.04m; 13′ 3″).
Amato ranks fifth among all freshmen who qualified for the East Preliminary, behind only Kentucky's Olivia Gruver, Tennessee's Kristen Denk, Akron's Rebecca Pietsch and Louisville's Morgan Zacharias. Only seven freshmen were among the region's qualifiers in the pole vault, which is scheduled to be competed 4:00pm (CT), Friday, May 27th at North Florida's Hodges Stadium.
The top-12 in each event in both the East and West Preliminaries will advance to the 2016 NCAA Outdoor Track and Field Championships at Eugene, Oregon, June 8th-11th.