Clarksville, TN – The Friends of Dunbar Cave sponsor Cooling at the Cave, a family event once every year. The event was held Saturday, July 30th. This year's music was provided by Cumberland Winds Jazz Project, an 18-piece ensemble that was perfect for the venue.
Their cool jazz thrilled a crowd of more than 300—couples, families with small children, people with their well-behaved dogs, and jazz lovers of all ages. With songs like "String of Pearls," Tuxedo Junction," "Stardust," and other favorites, Cumberland Winds enchanted the on-lookers with their finesse and pleasing harmonies.
Friends of Dunbar Cave Inc. is an independent, non-profit corporation committed to protecting and preserving the natural and cultural resources of Dunbar Cave State Natural Area for this generation and generations to come. Friends of Dunbar Cave in Supporting and protecting Dunbar Cave State Natural Area is open to all for the $25.00 family membership fee that includes free t-shirts.
Members receive their newsletter, are invited to monthly meetings held on the second Thursday of the month at 6:00pm and are invited to participate in special park projects and activities. Members assist in short and long term goals to encourage development that will protect and preserve the wilderness and recreation that Dunbar Cave State Natural Area represents.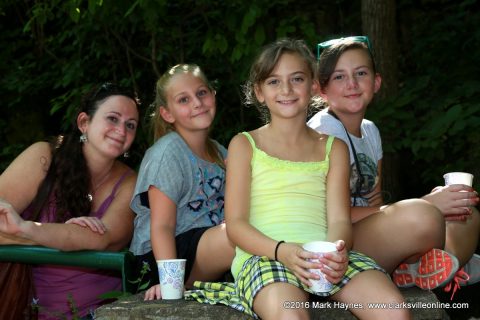 The group added 34 additional acres to the protected area and according to past president (2012-2015) Lionel Senseney added more room to this "oasis" in the middle of the city. The purchase added one-third to the current space, according to Senseney, a member of Friends of Dunbar Cave for the past seven years.
The current president was out of town, but Rob Sanders, president-elect for 2017-18, was on hand. He said that his wife joined the faculty at Austin Peay State University two years ago as a member of the psychology department, and they became members of Friends of Dunbar Cave.
Cumberland Winds is a popular addition to many activities in the Clarksville-Montgomery County area. Their director, the former director of a military band, Mike Ritter, is now on the faculty of APSU in the music department. He skillfully led songs like "You Need to See the Light," "Satin Doll," "When I Fall in Love," a jazz version of "Amazing Grace," and a rousing funk song called "Firestarter."
Each number featured individual members of the band on solos that were professional versions of improvisations that received enthusiastic rounds of applause from music lovers. Many of the band members came to the group from military bands where they formerly worked before becoming Veterans.
The band sat—except for the two guitarists and keyboard artist—on stone steps covered by moisture from the cooling air provided by the cave behind them. Drops of water fell on those close to the cave and a cool time was had by all.
Make your plans to attend this free event next year because it's a great afternoon of fun and great jazz. You won't be disappointed!
Photo Gallery