APSU Sports Information

Clarksville, TN – Freshman running back Kentel Williams totaled a record-breaking 399 all-purpose yards, including a 97-yard kickoff return touchdown, but his effort wasn't enough as the Austin Peay State University football team fell 67-30 against Eastern Kentucky, Saturday, in the home finale at Fortera Stadium.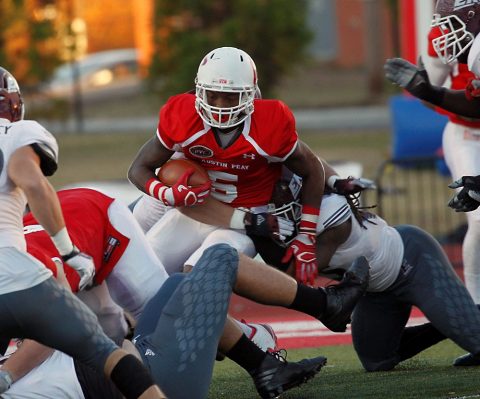 Williams finished the night with 176 yards on the ground, 42 receiving and 181 on kick returns to set the APSU new single-game all-purpose school record.
Austin Peay's 30 points are the most against Eastern Kentucky in the all-time series history.
Turning Point
Despite falling behind 25-0 to begin the contest, Austin Peay trimmed the deficit to 16 points following Nick Gauna's 52-yard field goal. However, on the ensuing kickoff, Jared Sanders took it to the house – a 90-yard score to push EKU's lead back to 23 points.
Inside the Box Score
Williams breaks the school record for most all-purpose yards in a single game, passing Terrence Holt's 338 yards against Murray in 2010.
In addition, for rushing performance, Williams posted the most rushing yards in a game since Otis Gerron's 196 yards at Mercer in 2014.
Following Williams' kickoff return touchdown, the Govs now have two in 2016. It's the first time Austin Peay has had two in a single-season since Holt had two in 2007 – from 85 and 75 yards out.
As a team, it's the most kick return yards in a single-game since 2011.
In the fourth quarter, Nick Gauna connected on a 52-yard field goal, tying Steph Stansell for the longest in program history.
Running back Kendall Morris moved up to 24th all-time in rushing yards.
In his return game, safety James Bond made a team-high 11 tackles, seven of which were solo.
Safety Chris Hopkins recorded 10 tackles, including two break-ups.
Linebacker Gunnar Scholato had eight tackles and two quarterback hits.
Quotes
Head Coach Will Healy on the team's slow start
"You have to give them a lot of credit. They beat us from the first snap to the last, and we didn't have an answer. I thought there were times where we could've snuck back into the game, down 16, but then they ran a kick back. Every answer we had, they had two of them. They executed better than us, and we turned the ball over and couldn't get stops on third down."
Head Coach Will Healy on the special teams
"I thought they beat us in all three phases. We did have a great answer on our kickoff return, but they had one too, and they had too many short fields. They were really good on special teams as well."
Head Coach Will Healy on Kentel Williams
"I told the guys in the locker room I want 95 guys like Kentel Williams and we're going to win championships because of people like that. Kentel did a phenomenal job and competed from the first snap to the last. He's a competitor and an extremely talented athlete."
Summary
1st quarter
EKU 11:40 – On 3rd and 10, Tyler Swafford found Devin Borders for a 45-yard touchdown. The two-point conversion try was successful.
EKU 2:23 – Lucas Williams converted on a 31-yard field goal attempt.
2nd quarter
EKU 13:19 – Jared Sanders broke free up the middle for a 16-yard rushing score, increasing EKU's lead to 18-0.
EKU 11:31 – After an APSU turnover, the Colonels capitalized on it with a three-yard rushing touchdown by Daryl McCleskey Jr.
APSU 11:16 – On the ensuing kickoff, Kentel Williams returned the kick 97 yards for a touchdown.
EKU 10:09 – EKU answered back with a 22-yard passing touchdown as Swafford hit Dan Crimmins in the corner of the endzone.
EKU 6:51 – The Colonels added to their lead as Henry Enyenihi crossed the goal line for an eight-yard score.
APSU 2:15 – Austin Peay's first offensive score of the night came on a nine-yard keeper by quarterback JaVaughn Craig.
3rd quarter
APSU 13:38 – Craig's second touchdown came early in the third quarter – a two-yard rushing score.
EKU 10:52 – EKU pushed its lead back out to 46-20 following a 35-yard burst by McCleskey.
APSU 7:19 – Williams continued his big night with a seven-yard touchdown around right end, ending an 11-play drive.
4th quarter
APSU 14:53 – Nick Gauna split the uprights with a 52-yard field goal, tying the APSU school record.
EKU 14:39 – The special teams onslaught continued as EKU's Sanders sprinted for a 90-yard kickoff return touchdown.
EKU 9:37 – Eastern Kentucky increased its point total to 60 after a 19-yard touchdown run by McCleskey.
EKU 3:45 – Ralph Patton finished the game with a three-yard rushing touchdown.
Up Next
Austin Peay concludes the 2016 season at Kentucky, 3:30pm, next Saturday.
Fans can also follow all the action from the 2016-17 season on www.LetsGoPeay.com, on Twitter @LetsGoPeay & @AustinPeayFB and on Facebook at www.facebook.com/LetsGoPeay
The Kentel Williams Show
Prior to the Game
The Govs honored their 2016 senior class prior to kickoff.