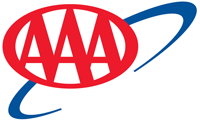 Knoxville, TN – All signs are pointing to a busy year for vacationers and the travel industry. According to a recent AAA Consumer Pulse™ survey, 78 percent of Tennesseans are planning to take a vacation in 2017 – with most planning trips to warm weather destinations in the U.S. and abroad.
Almost three out of four (72%) Tennessee travelers will take one to three vacations in 2017, with the highest percentage of trips (41%) planned during the period of April-June.
Click here to view more state-specific travel information.
"With much of the country in the midst of a harsh winter, warm-weather destinations in the United States and Caribbean are topping most Americans' travel itineraries," said Joseph J. Richardson, President and CEO, AAA – The Auto Club Group. "Whether they're taking a road trip to a well-known domestic destination or visiting an exotic international location, today's travelers are seeking experiences that are unique and immersive."
According to AAA, destinations with the most notable increases in travel bookings include Melbourne and Sydney, Australia; Toronto and Vancouver, Canada; and Cancun, Mexico.
The top destinations for 2017, based on AAA travel bookings nationwide:

Domestic:

1. Orlando, Florida (1)
2. Fort Lauderdale, Florida (2)
3. Anaheim, California (3)
4. Miami, Florida (4)
5. Las Vegas, Nevada (6)

International:

6. Punta Cana, Dominican Republic (2)
7. Rome, Italy (1)
8. Montego Bay, Jamaica (3)
9. London, England (4)
10. Nassau, Bahamas (6)

*Numbers in parentheses indicate 2016 rankings
AAA's travel experts have identified these top trends for 2017:
Experiential Travel: Both novice and expert travelers alike are seeking travel experiences that help to facilitate a deeper connection to the cultures, people and traditions of a destination. For example, AAA has noted an increase in travelers booking tours that include opportunities to dine with local families or receive hands-on tutorials from local craftspeople.
O Canada: Canada is an increasingly popular vacation destination, thanks to its close location and favorable currency exchange rates that make trips there affordable and accessible to more Americans. Canada will also celebrate its 150th birthday in 2017, offering visitors many opportunities to experience special events and learn more about the country's history and traditions.
The "I"s Have It: AAA notes a significant amount of demand for travelers visiting Europe in 2017. Ireland and Iceland are expected to be particularly popular, thanks to the availability of low airfares and the perception that both countries are safe—yet for many travelers, previously unexplored—destinations.
River Cruising: According to a AAA survey, four in 10 Americans would consider a river cruise for an upcoming vacation and 24 percent said they are likely to take a river cruise in the next five years. And despite the perception that river cruising appeals primarily to older generations, millennials are more likely to consider a river cruise for an upcoming vacation than either their Generation X or Baby Boomer counterparts.
National Parks: The National Park Service celebrated its 100th anniversary in 2016, to great fanfare. Following all-time record visitation in 2015, the national parks remain an attractive vacation destination for many. According to a recent AAA survey, 79 percent of Americans say they are as likely or more likely to visit a national park through the first half of this year, building on the momentum of last year's centennial celebrations.
"Tennesseeans setting out on a road trip may find higher gas prices than last year," said Stephanie Milani, Public Affairs Director, AAA – The Auto Club Group. "Oil prices are forecast to hover around current levels this year, which means the national average for regular unleaded should range from $2.25-$2.75, based on swings in supply and demand."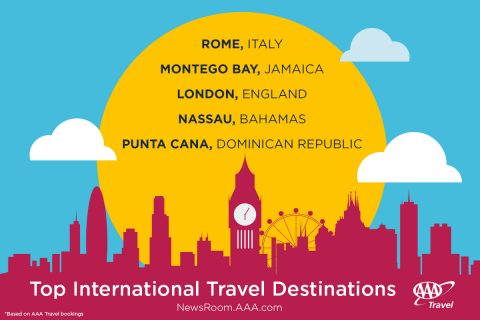 Before setting out on a vacation, travelers should contact their local AAA office for the expert advice of a trusted travel advisor who can provide personalized service and first-hand destination knowledge to create a memorable vacation experience. Travelers can also download the free AAA Mobile app for iPhone, iPad and Android.
The app can be used to map a route, find the lowest gas prices, access exclusive member discounts, find more than 58,000 AAA Approved and Diamond Rated hotels and restaurants, request roadside assistance and more. For more information or to begin planning a trip, visit AAA.com/Travel.
About the Survey
The AAA Consumer Pulse™ Survey was conducted online among residents living in the Auto Club Group territory from September 28, 2016 – October 6, 2016. Approximately 400 residents in each state completed the survey. Survey results have margin of error of ± 4.9 percentage points. Responses are weighted by gender and age to ensure reliable and accurate representation of the adult population (18+) in Tennessee.
About The Auto Club Group
The Auto Club Group (ACG) is the second largest AAA club in North America. ACG and its affiliates provide membership, travel, insurance and financial services offerings to over 9 million members across eleven states and two U.S. territories including Florida, Georgia, Iowa, Michigan, Nebraska, North Dakota, Tennessee, Wisconsin, Puerto Rico and the U.S. Virgin Islands; most of Illinois and Minnesota; and a portion of Indiana.
ACG belongs to the national AAA federation with more than 56 million members in the United States and Canada and whose mission includes protecting and advancing freedom of mobility and improving traffic safety.