Clarksville, TN – Clarksville Police nightshift patrol officers were kept busy Saturday night and Sunday morning with numerous calls-for-service that included vandalism with a firearm and a vehicle crashing into a house.
Officers investigated a report of shots fired around Paddock Place Apartments on Union Hall Road at 9:25pm. Five vehicles were found with bullet damage. Witnesses reported a slim black or Hispanic male, dressed in black, running from the scene.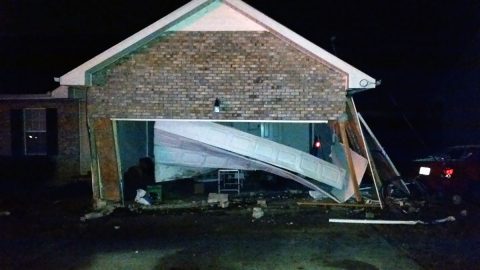 Shot were reported about ten minutes later near Tiny Town Road when three bullets struck a house on Carrie Drive. There were no injuries. A witness reported about five shots were fired from a small dark-colored sedan. The residents stated they had no idea who fired the shots.
A vehicle struck a utility pole and a privacy fence, and went down an embankment after leaving the roadway on Hazelwood Road at 11:35pm. Two occupants described as teenaged females had to be extracted from the vehicle. The teenagers were taken to Tennova Healthcare before being sent to Vanderbilt University Medical Center. Alcohol is being investigated as a factor. Both occupants were listed in stable condition.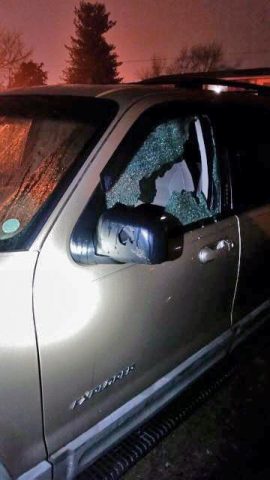 Less than an hour later, at 12:32am, a vehicle on Trenton Road also left the roadway, struck another utility pole, and went down an embankment. Trenton Road was shut down and closed to all traffic while that vehicle was recovered.
No additional information will be available on these two crashes until the police reports are filed.
A driver failed to negotiate a curve on Meredith Way at 1:12am and crashed into a house after striking two parked vehicles. Clarksville resident Michelle Holmes Gee was charged with Driving Under the Influence and No Proof of Insurance. Gee was also charged with Reckless Endangerment because there was also a seven-year-old child in the vehicle.
Gunshots were reported on University Avenue near the Gilroy Pub at 1:48am. Witnesses stated a light-skinned black male fired several pistol shots into the air before leaving in a blue Chrysler 300. Witnesses said the suspect did not aim or fire at anyone or any property.
A home invasion call at 5:25am on Grassmire Drive was determined to be a confused, intoxicated man who went home to the wrong house. Sean Clifford Turner reportedly did the responsible thing by giving his car keys to a friend and calling for an UBER ride after drinking too heavily in Nashville. The Clarksville resident unfortunately had the driver drop him off several houses short of his residence.
When Turner repeatedly attempted to gain entry to the wrong house, eventually going behind the home and kicking the back door, he quickly found himself at gunpoint from the resident. The complainant reportedly held the suspect at gunpoint on the back deck until police arrived. Turner was charged with Public Intoxication and transported to jail without further incident.