APSU Sports Information
Clarksville, TN – Fans attending Austin Peay State University baseball games at Raymond C. Hand Park will have the opportunity to enjoy the largest baseball video board in the Ohio Valley Conference thanks to a significant gift from the Clarksville-based James Corlew Chevrolet Cadillac dealership, the athletics department announced Monday.
Work began February 1st on the video board installation, which is being constructed by Brookings, South Dakota-based Daktronics.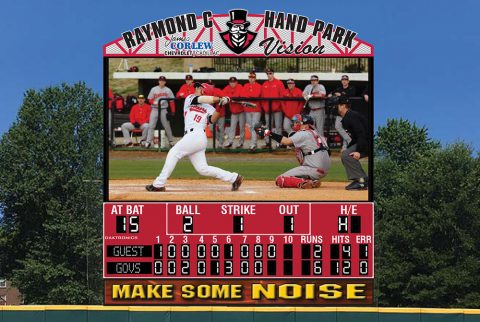 The primary video board will measure 13½ feet high by 24¼ feet wide and provide 327 square feet of digital space for live high-definition video, instant replays and up-to-the-minute statistics, as well as game information, graphics and animations.
It is the crowning piece of a multi-faceted structure which will include a new scoreboard that will measure 25 feet wide and display inning-by-inning scoring details in Daktronics Panaview LED technology. In addition, a secondary video board – measuring 3-feet, 8-inches tall will sit below those two boards.
"We are dedicated to making Raymond C. Hand Park one of the finest baseball facilities not only in the Ohio Valley Conference but in Tennessee," said APSU athletics director Ryan Ivey. "I cannot express enough gratitude to James Corlew Chevrolet Cadillac for their generosity to help us move toward that goal with the addition of this impressive video board project."
It is the second significant contribution to Austin Peay baseball and Raymond C. Hand Park in 2016 from the Clarksville-based James Corlew Chevrolet Cadillac dealership. The company previously donated to the replacement of the baseball dugouts, a project currently nearing completion. The video board and dugouts are the first phases of a complete facility plan being developed by Ivey.
"What an incredible day for Austin Peay baseball and athletics," said Governors head baseball coach Travis Janssen. "The new video board and scoreboard will bring the atmosphere of Hand Park to a new level. This video board will benefit our program in more ways than can be imagined today."
The new video board will be a game changer in the OVC as the largest of its kind at any baseball facility. It is the latest display for Austin Peay athletics, which saw video boards installed at both Fortera Stadium and the Winfield Dunn Center in the past three years. However, "Corlew Vision" will surpass both of those video boards in size.
The new video board-scoreboard complex is expected to be completed in time to be utilized during the Governors 2017 campaign.
About James Corlew
A 1958 Austin Peay graduate in business administration, Corlew played second base for the Governors under Leon Sandifer from 1955-58. He was captain of the 1958 Austin Peay team which posted an undefeated regular-season mark, including a win against Vanderbilt, and won the Volunteer State Athletic Conference's Western Division.
After graduation from Austin Peay and serving in the U.S. Army, he returned to Clarksville and became an office manager for a local car dealer for almost four years. Corlew began a Chrysler/Plymouth dealership with a partner in 1966 before starting a Chevrolet dealership at its present location across from the Austin Peay campus in 1970. The respected owner grew his company with franchises in five different cities before concentrating his efforts on his Clarksville dealerships.
Corlew has been heavily involved in supporting Austin Peay athletics since the early 1970s, in particular during the Lake Kelly basketball-coaching era, and has remained involved, helping with financial support in the department's annual fund-raising events, in particular, the musical concert series. He also is a sponsor for the Governors Sports Network and has provided transportation for coaches over the years.
His support also includes the creation and sponsorship of two Austin Peay memorial scholarships. Corlew also is member of the APSU Foundation Board of Trustees and the APSU Tower Club. He was inducted into the APSU Athletics Red Coat Society – recognizing his significant contributions to the athletics department – in 2012.