APSU Sports Information
Murfreesboro, TN – Austin Peay State University's baseball center fielder Alex Robles had three hits, including a run-scoring triple, but the Governors dropped a 3-2 nonconference decision to Middle Tennessee, Wednesday night at Reese Smith Jr. Field.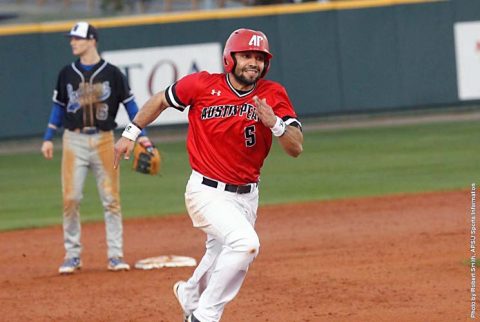 A month ago, Austin Peay and Middle Tennessee were involved in a 21-8 contest in Clarksville that went the Govs direction. But Wednesday proved a much different contest as a pitcher's duel developed.
Austin Peay starter Josh Rye (3-1) held Middle Tennessee scoreless in his first time through the order. He would eventually surrender a solo home run to center fielder Brad Jarreau in the third inning. The Blue Raiders would get another pair of solo home runs against Rye to build a 3-0 lead after five inning.
Meanwhile, Middle Tennessee starter AJ Spencer (1-0) held the Govs at bay through his five-inning outing, allowing just two hits and a walk. The Govs could only begin to threaten against the Blue Raiders bullpen, loading the bases in the sixth, but were turned aside.
After Rye departed the mound, the Govs bullpen teamed up to shut down any further Blue Raiders offense. Reliever Jacques Pucheu provided 1.1 innings of scoreless relief followed by Zach Neff and Levi Primasing, who each added another scoreless inning.
Austin Peay (11-13) finally broke through in the eighth inning when catcher Parker Phillips led off the inning with a single off reliever Tanner McDivitt. Center fielder Alex Robles then laced a ball into the left center gap that could not be tracked down and he ended up at third base with a RBI. Right fielder Chase Hamilton followed with a sacrifice fly, cutting the deficit to 3-2 and ultimately setting the final score.
Robles led the Govs with a 3-for-4 outing that included his RBI triple. Four other Govs hitters had base hits in a seven-hit outing by the offense.
Rye struck out six over his 4.2-inning outing, allowing three runs on four hits. The bullpen allowed just two hits while striking out five over the final 3.1 innings.
Jarreau hit a pair of solo home runs in his MTSU-leading 2-for-4, two RBI performance. Second baseman Ryan Kemp added the Blue Raiders' other run on his solo shot in a 1-for-3 effort.
Who Governed
Robles finished with three of the Govs seven hits in the contest, beginning with singles in the third and sixth innings. He delivered Austin Peay's first run in the eighth with a triple off the wall in left center, driving in catcher Parker Philips. Robles extended his hit streak to a team season-best seven games with the 3-for-4 outing.
Silver Linings
Robles Racing
Robles' current seven-game hit streak is the longest for a Govs hitter in 2017. He has 14 hits and eight RBI during the stretch, seven of those hits coming in the last two games.
Plunk Phillips
Phillips was hit by a pitch twice in Wednesday's contest, his 10th and 11th times hit by a pitch this season. Six of those HBPs have come in the last five games, which coincides with his six-game hit streak.
Ks A Plenty
The Govs pitching staff rang up 11 strikeouts against Blue Raiders batters. It is the eighth-time this season Govs pitchers have recorded double-digit strikeouts this season and they now have 207 strikeouts in 214 innings pitched.
One Walk, One Walk Only
In addition to the 11 strikeouts, the Govs pitching staff limited Middle Tennessee to one walk over eight innings. It was the fourth time – and second time in four games – the Govs have surrendered one walk in a contest.
Next Up for APSU Baseball
Austin Peay continues its five-game road trip with a three-game Ohio Valley Conference series against Southeast Missouri, Friday-Sunday, at Capaha Field in Cape Girardeau, Missouri.