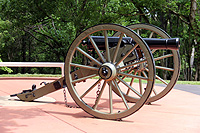 Clarksville, TN – The next meeting of the Clarksville (TN) Civil War Roundtable will be on Wednesday, June 21st, 2017 at the Bone & Joint Center, 980 Professional Park Drive, right across the street from Tennova Healthcare. This is just off Dunlop Lane and Holiday Drive and only a few minutes east of Governor's Square mall.

The meeting begins at 7:00 pm and is always open to the public. Members please bring a friend or two – new recruits are always welcomed.

Topic – "Bonnie Blue Flop: The Relationship Between Beauregard and Hood On The Tennessee Campaign of 1864."

Confederate General John Bell Hood took command of the Army of Tennessee in mid-July, 1864 with his back literally to Atlanta. Despite three intense battles, the Union army under William T. Sherman soon cut the city's last rail lines forcing Hood to abandon the city. Sherman took it over on September 2nd, 1864.

Reacting to this event, Confederate president Jefferson Davis created new super department covering the western theater encompassing the sections commanded by Hood and General Richard Taylor's Department of Alabama, Mississippi and East Louisiana. Davis placed in command another nemesis, General P.G.T. Beauregard.

While this made for a more plausible command situation in terms of controlling events and reacting to Union incursions in the super department, it also had one big problem.

Beauregard tried very hard to create a great command and supply situation for the troops under his command, in particular the Army of Tennessee under Hood, which was now heading north from Georgia into northern Alabama and eventually into Tennessee itself with the goal of retaking Nashville. Beauregard was always trying to guide Hood but Hood failed and often disobeyed him during the campaign with tragic results.

Our speaker this month, discussing this command relationship and the Tennessee Campaign, is noted Civil War historian Stephen Davis. A Georgia native, Davis has been a Civil War buff since elementary school and in college studied under the legendary Bell Wiley under whom he earned his PhD at Emory University.

Steve has been a prolific author with four books to his credit, all with rave reviews, plus numerous articles in state historic journals, with a focus on aspects of the Atlanta Campaign. He recently had an article in Civil War Times on an aspect of the topic of this month's presentation. Steve is also the current book reviews editor for Civil War News and past book reviews editor for the now defunct Blue & Gray Magazine.



Sections
Events
Topics
Alabama, Army of Tennessee, Atlanta GA, Bone and Joint Center, Civil War, Clarksville Civil War Roundtable, Clarksville TN, Confederate Army, Dunlop Lane, Georgia, Governors Square Mall, Holiday Drive, Jefferson Davis, John Bell Hood, Professional Park Drive, Stephen Davis, Tennessee, Tennova Healthcare - Clarksville, Union Army, William T. Sherman