Written by Curtis Johnson
Tennessee State Representative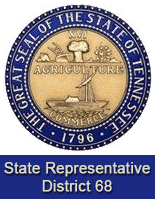 Nashville, TN – The first session of the 110th Tennessee General Assembly adjourned on May 10th, 2017, after passing major legislation that will benefit Tennesseans for generations to come. This is Part 12 of a 12 Part report.
This includes a measure making Tennessee the first state in the nation to offer all adults without a degree tuition-free access to community college; a new law rebuilding a safe and reliable transportation network, while reallocating revenues to maximize taxpayers' return on that investment; and a bill which provides a responsible path to improve access to broadband through investment, deregulation, and education.
Action in the General Assembly also included passage of a balanced budget which takes on no new debt, as well as legislation protecting the elderly, enhancing the state's robust job growth, cracking down on crime, and boosting efforts as the fastest improving state in the nation in K-12 student achievement. Following is a report on key legislation passed this year.
Campaign / Elections / Legislative Disclosures
Campaign Financial Disclosures / Audits
The 2017 legislative session saw the passage of legislation which doubles the number of random audits conducted by the Tennessee Registry of Election Finance. The Registry was created by the General Assembly in 1989 as an independent entity of state government. The agency is responsible for the enforcement of the state's Campaign Financial Disclosure Act and the Campaign Contribution Limits Act. The measure requires the Registry to increase the number of audits and field investigations of candidates and their committees from two to four percent.
House Bill 992 / Status: PC 479 / Effective Date: Upon becoming law on June 6th, 2017.
Legislative Ethics / Travel
A bill was approved this session requiring members of the General Assembly to disclose certain travel expenses paid for by individuals seeking to inform or advise the lawmaker on state public policy issues. The measure ensures transparency if a legislator travels at the expense of an individual or organization seeking to influence public policy.
House Bill 275 / Status: PC 470 / Effective Date: May 30th, 2017.
Campaign Finance
Legislation passed this year requiring that campaign funds be deposited into a traditional bank or credit union insured by the FDIC. Current law allows campaign funds to be invested in a private or publicly traded company, causing ethics concerns and a gap in transparency in the state's campaign finance laws. Under the new law, any investment not authorized would be prohibited, and the candidate, or in the case of a multicandidate political campaign committee, the treasurer, would be subject to a civil penalty by the Registry of Election Finance of not more than $10,000 or 115 percent of the amount invested.
House Bill 704 / PC 109 / Effective Date: July 1st, 2017.
Election Ballot
The legislature has approved a new law making it easier for voters to locate local election candidates on the ballot in the midst of a presidential primary year. The new statute calls for reordering the ballot to allow candidates for state, municipal and county election to immediately follow the names of the presidential candidates. The names of presidential primary delegates will then follow.
The measure also increases the number of vertical columns for each respective party's primary election on the ballot from two to three to help ease a voter's search. The legislation comes after a long list of delegates were listed on the 2016 presidential primary ballot, which was confusing to some voters wanting to access local election races.
House Bill 57 / Status: PC 1 / Effective Date: July 1st, 2017.
Election Laws / Volunteers
Finally, state lawmakers voted to allow election workers to volunteer their time at polling places without receiving compensation. This was brought forward after students participating in the Tennessee Promise sought out opportunities to fulfill required volunteer hours through the election commission.
House Bill 264 / Status: PC 15 / Effective Date: Upon becoming law on March 24th, 2017.
Second Amendment Rights
Handgun Permit Holders
Legislation passed this year that protects law-abiding citizens who carry handgun permits in accordance with the state's firearm preemption law by keeping local government entities from prohibiting or restricting firearms on local government property unless certain security conditions are met.
It also creates a private cause of action for a party that is adversely affected by a local ordinance, resolution, policy, rule, or other enactments on firearms preempted by state law.
House Bill 508 / Status: PC 467 / Effective Date: July 1st, 2017.
Temporary Handgun Carry Permits / Order of Protection
Final legislative approval was given to a new law allowing persons who have been granted an Order of Protection to immediately carry a handgun as long as they possess a copy of the order with them. It provides victims with the ability to protect themselves immediately as the process for obtaining a handgun permit can take weeks or months to obtain.
The person would have 21 days to receive a temporary handgun permit in order to carry the weapon for an additional 60 days. This allows the victim time to complete the Tennessee handgun carry permit process if desired.
House Bill 752 / Status: PC 468 / Effective Date: May 26th, 2017.
Clarifying Tennessee's Handgun Permit Law
Legislation has been signed into law that clarifies prohibition under Tennessee's handgun carry permit law means when students are present and that an activity is a school-sanctioned event.
House Bill 995 / Status: PC 341 / Effective Date: Upon becoming law on May 9th, 2017.
Firearms Dealer / Private Collection
The General Assembly approved legislation that treats a licensed firearms dealer the same as a private citizen by allowing them to occasionally sell, exchange, or transfer firearms from their personal collection without requiring a background check on the buyer. It clarifies present law that background check requirements do not apply to the occasional sale of a used or second-hand firearm by a person who is not engaged in the business of importing, manufacturing, or dealing in firearms.
House Bill 61 Status: PC 185 / Effective Date: Upon becoming law on April 19th, 2017
Handgun Training / Military Personnel
A new law passed during the 2017 legislative session that exempts active-duty military service members and veterans who have specialties as military police, special operations, or Special Forces from handgun carry permit firing range requirements. The specialties include military police, special operations, and Special Forces due to the intensive firearms training that is required of these soldiers.
House Bill 27/ Status: PC 159 / Status: Upon becoming law on April 24th, 2017.
Castle Doctrine / Boat
Lawmakers approved a bill which expands Tennessee's Castle Doctrine to include boats. The Castle Doctrine is a legal doctrine that designates a person's home as a place in which that person has protections and immunities, permitting him or her, in certain circumstances, to use force to protect themselves.
Tennessee has already expanded the Castle Doctrine to a person's occupied vehicle. This new law simply expands the Castle Doctrine to a person's boat.
House Bill 688 / PC 202 / Effective Date: July 1st, 2017.
Other
Tennessee Statutes / Interpretation of Words
Legislation passed this year that states undefined words shall be given their natural and ordinary meaning under Tennessee law, without forced or subtle construction that would limit or extend the meaning of the language, except when a contrary intention is clearly manifest.
House Bill 1111, / Status: PC 302 / Effective Date: Upon becoming law on May 5th, 2017.
Abortion / Tennessee Infants Protection Act
A new law approved during the 2017 legislative session enacts the "Tennessee Infants Protection Act." This legislation calls for a doctor to test viability before an abortion when the woman is at least 20 weeks past the gestational age, and there will be a rebuttable presumption that an unborn child of at least 24 weeks is viable.
The measure provides health exceptions in the cases for abortions to be performed after the 20-week time frame, including those in which the mother is in imminent danger of death or if there is a serious risk of substantial and irreversible impairment of a major bodily function.
House Bill 1189 / Status: PC 353 / Effective Date: July 1st, 2017.
Domestic Animals
The 2017 legislative session saw passage of a new law that requires entities offering animal shelter services to make reasonable efforts if an animal has any identification or a microchip to locate the owner. The legislation calls for notifying the animal's owner within 48 hours of custody, or two business days, before euthanizing them.
House Bill 1103/ / Status: PC 206 / Effective Date: Upon becoming law on April 27th, 2017.
Visually Impaired / Safety in Public Buildings
A new law has passed that helps visually impaired persons to safely navigate steps at public buildings in Tennessee. It requires that the steps to a public entrance of buildings constructed, purchased or leased by state and local governments on or after July 1st, 2017 be marked to make them more easily identifiable.
House Bill 1381 / Status: PC 491 / Effective Date July 1st, 2017.
Athletic Teams / Visiting Physicians
State lawmakers voted to approve the Visiting Sports Team Act which defines certain conditions in which medical staff of out-of-state athletic teams can perform their duties without being in conflict with Tennessee law. Presently, out-of-state athletic team physicians cannot treat players and others because they lack a Tennessee license.
The legislation states that any visiting team physician must be licensed in their home state and have an agreement with a sports team to provide care while traveling in Tennessee. This enables the visiting team physician to administer sideline evaluation, triage, and diagnostic services.
The physician, however, must refer to a Tennessee licensed physician if an athlete needs to be transported to a health care facility. The visiting physician will not be able to practice at a health care clinic or health care facility, including an acute care facility in the visiting state.
House Bill 952 / Status: PC 329 / Effective Date: For rulemaking purpose, upon becoming law on May 9th, 2017, for all other purposes it takes effect on January 1st, 2018.
Internet Sales Tax Rule
As part of the Omnibus Rules bill, legislation was passed this year that puts the collection of Internet sales tax on hold, but leaves the rule in place so the state can continue to have standing in court. When the Internet sales tax issue is finally settled by the courts, then the rule will come back to the General Assembly, beginning with the Government Operations Committee's Uniform Administrative Procedures Act (UAPA) process.
That process would be followed by consideration by the full House of Representatives and Senate in a future Omnibus Rules bill, dependent on when the courts finally settle the issue.
House Bill 261 / Status: PC 452 / Effective Date: May 25th, 2017.
Flashing Lights on Front of Vehicles
Legislation was approved this year that prohibits steady-burning and flashing lights on the front of vehicles in any color other than white, amber, or any combination of colors or any combination of colors other than white and amber. The exception is those used by highway maintenance, school buses, law enforcement, emergency personnel, and other such government issued vehicles.
House Bill 332 / Status: PC 378 / Effective Date: January 1st, 2018.
Memphis Belle / Official State Airplane
A new law naming the Memphis Belle as the Tennessee's official state airplane was approved this year. Passage of the legislation comes as preparations are being made for a week-long "roll-out" ceremony in May 2018 — the 75th anniversary of the Belle's twenty-fifth mission over Nazi-occupied Europe.
House Bill 485 / Status: PC 33 / Effective Date: Upon becoming law on March 29th, 2017.
Tennessee Freedom of Speech Act
Legislation was approved during the first session of the 110th General Assembly that protects freedom of speech by prohibiting homeowner's associations (HOAs) from restricting the display of political signs on private property. The new law allows them to adopt reasonable covenants and restrictions with respect to the placement of signs on common space and private property maintained by the owner or resident.
This includes limiting the size of the sign to four square feet. These provisions do not affect any HOA covenants or restrictions that are currently in place.
House Bill 1199 / Status: PC 294 / Effective Date: July 1st, 2017.
States / Policies Differences and Travel Bans
A resolution, which points out the absurdity of California's ban on state-funded and state-sponsored travel based on a policy difference with Tennessee, met with legislative approval this year. After passage of Assembly Bill 1887 last summer, the State of California's Department of Justice issued a travel ban based on Tennessee's passage of Public Chapter 926.
That law protected the rights of counselors to refer a client to another therapist when the goals, outcomes, or behaviors for which they are seeking counseling are a violation of his or her sincerely held beliefs.
The ban applies to California's state agencies, departments, boards, authorities, and commissions, including an agency, department, board, authority, or commission of the University of California, the Board of Regents of the University of California, and the California State University.
California's travel ban also applies to North Carolina, Mississippi and Kansas based on other policy differences. The resolution adopted in Tennessee this year points out that travel bans based on policy differences can lead to economic warfare and are counterproductive to the common objectives that all states have. It also points out that the Tenth Amendment grants states sovereignty in addressing issues solely within their jurisdiction.
Senate Joint Resolution 111 / / Status: Signed by Gov. on May 4th, 2017.