APSU Sports Information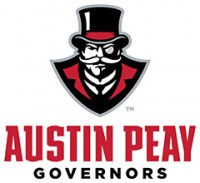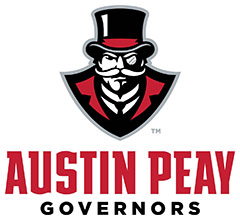 Clarksville, TN – A quartet of Governors with ties to the Austin Peay State University athletics department will be honored at the 2017 Homecoming Alumni Awards Brunch, October 21st, 2017 at Morgan University Center Ballroom.
Longtime Austin Peay head men's basketball coach Dave Loos will receive an Outstanding Service award, while former golfer John Swigart and former football player Trent Caffee will receive Outstanding Young Alumni honors. Another former golfer, Steve Harmon, will receive one of two Outstanding Alumni awards.
Loos' outstanding career has been well-documented; the winningest coach in Austin Peay and Ohio Valley Conference history retired in April after 27 seasons and 421 victories on the sidelines in Clarksville, accumulating four OVC Tournament Championships, five Coach of the Year honors and six 20-win seasons along the way.
In addition to induction into the APSU Athletics Hall of Fame in 2008, the court in the Dunn Center was renamed Dave Loos Court at the behest of outgoing APSU President Dr. Sherry Hoppe in 2007.
As good as he was as a coach, Loos stepped up and guided the athletics department for 16 years as the athletics director, pulling double-duty in two of college athletics' most demanding roles. During his time as AD, Loos ushered women's soccer onto campus, brought back women's golf and scholarship football and oversaw not only facility improvements, including plans for the new football stadium, but the hanging of OVC Academic Banners in 2002-03 and 2008-09.
The youngest alum to be honored, Caffee was among the first wave of recruits brought in when Austin Peay resumed scholarship football in 2007. A four-year letter winner for the Govs, Caffee was a 2010 team captain, as well as an OVC Offensive Player of the Week and a two-time Athletic Director's Honor Roll member. While a student, Caffee was a founding member of the Alpha Tau Omega fraternity before graduating from Austin Peay in 2011 with a bachelor's degree in health and human performance.
After embarking on a coaching career, which included a stint as Governors quarterbacks coach from 2011-12, Caffee went to work in the private sector, first with Elemental Capital as a trader of precious metals before joining Dorado Trade Group as a senior trader. He's also been an instrumental influence in Austin Peay's football program post-graduation, both as an ardent supporter and financial benefactor during Fortera Stadium's construction.
The other 2017 Outstanding Young Alum to be honored, Swigart was a four-year letterwinner for the men's golf team under Mark Leroux before graduating in 2000. Swigart quickly put his APSU degree to good use, rising quickly through the ranks at Spartan Chemical Company, Inc., a recognized leader in the formulation and manufacture of sustainable cleaning and sanitation solutions for the industrial and institutional market.
After beginning his Spartan career as an area sales representative in Clarksville in 2000, by 2007 he was on the Board of Directors and has since ascended to the role of president not only of the parent company but also Spartan do Brasil, Spartan's wholly owned subsidiary in Campinas, Brazil, and works closely with the company's international affiliates.
Swigart remains active in sports and in golf, serving on the board of directors for the Toledo Mud Hens (Triple-A affiliate of the Detroit Tigers), Toledo Walleye (minor league affiliate of the Detroit Red Wings) and Inverness Golf Club. His love for Governors golf remains intact as well—Swigart set up a fund to benefit APSU men's golf upon his graduation in 2000 and still maintains that fund to this day.
A three-year letterwinner for Austin Peay golf, including a place on the 1979 OVC Championship squad, Steve Harmon graduated in 1983 with a degree in political science but maintained a lifelong devotion to the sport. From 1993-2007, Harmon worked on staff at the Orlando Sentinel, serving as senior desk editor, senior desk chief and news production editor, a position he held from 1998-2007.
A veteran news writer, Harmon has worked for a number of newspapers, including the Cincinnati Post, the Winston-Salem Journal, the Asheville Citizen-Times and the Kentucky New Era. Harmon got his start in sports journalism at APSU, serving as sports editor for The All State for three years.
Harmon joined Golfweek Magazine in 2007, first as deputy editor and later as editor. At Golfweek, Harmon served as a news and assignment editor for the magazine's editorial staff, covering major professional golf tours, as well as college, amateur and junior tours, holding that post until 2016. He now is editor of Morning Read, a golf newsletter targeting over one million golf industry insiders and consumers.
Slated for noon, October 21st, the Alumni Awards Luncheon will be an opportunity to mix and mingle with other alumni while paying homage to this year's award recipients. To RSVP, visit www.Alumni.apsu.edu/alumniawardslunch17. For questions, contact Alumni Relations Office, 931.221.7979 or 1.800.264.2586.