Clarksville, TN – On March 8th and 9th, 2018 the Austin Peay State University Board of Trustees will host its spring meetings at the Fort Campbell Military Installation and on the APSU campus.
The Board's Business and Finance Committee, Academic Policies and Programs/Student Life Committee, and Audit Committee will meet at 2:00pm that Thursday at the APSU Education Center, Building #203 on the Fort Campbell Army Installation.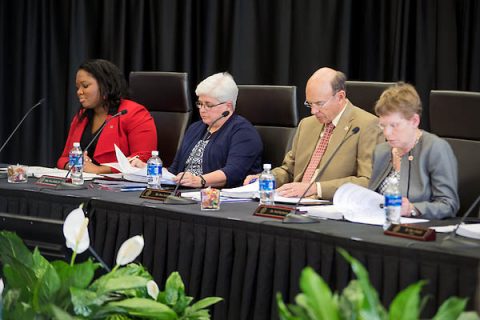 The full Board will meet at 9:00am on Friday, March 9th, at 317 College Street. All meetings are open to the public.
To attend Thursday's committee meetings, visitors must go to the Visitor Control Center at Gate 4, located at Building A-5004, Screaming Eagle Boulevard. Bring government-issued photo identification, vehicle registration and proof of insurance. During Thursday's Audit Committee meeting, the board will go into a closed executive session to discuss legal matters.
The Board will vote on several items during the meetings, including non-mandatory fees and housing rates for the 2018-19 academic year.
To watch the meeting live, visit http://www.apsu.edu/president/board-of-trustees/board-meeting-archived-videos.php
To view meeting materials such as the agenda, visit http://www.apsu.edu/president/board-of-trustees/board-meeting-schedule-and-materials.php
For information on the meeting, contact the Secretary to the Board at 931.221.7572.