APSU Sports Information
Spring Hill, AL – After splitting four matches in their season opener, Austin Peay State University beach volleyball team gets tripped up by Spring Hill, in a Sunday showdown.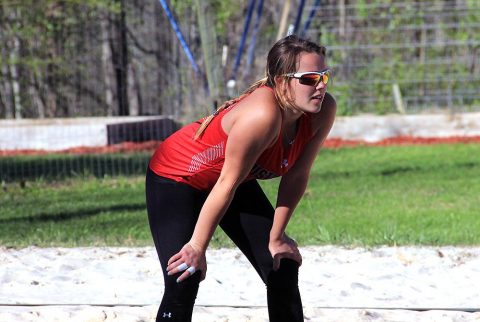 The Govs opened the day in style as Ginny Gerig and Cecily Gable topped Spring Hill duo, Julie Vujnovich and Payton Gidney, in a three-set matchup. Gerig and Gable won the opening set 21-14, before the Sandy Badgers mounted a comeback in the second, winning 12-21, but the young Governors' duo finished strong, taking the deciding set 15-10.
The rest of the day did not goes as planned for the Govs, who struggled down the stretch in their third-straight day of competition.
Ashley Slay and Cori Theiss stole a late set from Spring Hill's fourth pairing, 21-14, but lost the final set 17-15, as Austin Peay fell to the Sandy Badgers 4-1.
By the Numbers
Spring Hill 4, Austin Peay 1
No. 1 – Gerig/Gable (APSU) def. Vujnovich/Gidney (SHC) 21-14, 12-21, 15-10
No. 2 – Hurst/Herrera (SHC) def. Panning/Turner (APSU) 21-19, 21-19
No. 3 – Bilotti/Senft (SHC) def. Waite/Moore (APSU) 21-17, 21-14
No. 4 – Greim/Milwee (SHC) def. Slay/Theiss (APSU) 17-21, 21-14, 17-15
No. 5 – Neibert/Sullivan (SHC) def. Taff/Stitt (APSU) 21-14, 21-17
Exh. – Weimer/Blood (SHC) def. Darland/Korfhage (APSU) 21-17, 21-19
Next Up for APSU Beach Volleyball

The Govs will have a day off before returning to the beach court 9:30am, Tuesday, March 6th for the Georgia State Day of Duals in Atlanta, GA.
The Governors' Forecast
| | | |
| --- | --- | --- |
| Date | Opponent | Time |
| March 6th | UNC Wilmington (GSU Day of Duals) | 9:30am |
| March 6th | Georgia State (GSU Day of Duals) | 2:00pm |