Pat Head Summitt Statue, life-story display will be unveiled at Freedom Point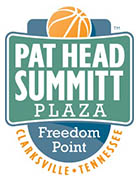 Clarksville, TN – Clarksville civic volunteers will achieve their goal of honoring Pat Head Summitt, hometown hero and legendary University of Tennessee women's basketball coach, with the dedication of the Pat Head Summitt Legacy Plaza at Freedom Point on Friday.
A bronze statue of Coach Summitt and an interpretative display of her life story will be dedicated. The event is open to the public. The media is invited to the cover the ceremony.
The ceremonty will take place at 3:00pmFriday, June 15th, 2018 at Freedom Point at Clarksville's Liberty Park. Here is a link to a Liberty Park map and directions: http://mapq.st/2GiGuYU
Shelley Sexton Collier, a member of Coach Summitt's first NCAA Championship team in 1987 and renowned women's basketball coach at Webb School of Knoxville, will be the guest speaker.
Sculptor Brett Grill, members of Pat Head Summitt's family, Clarksville Mayor Kim McMillan, and members of the Pat Head Summitt Project Committee will unveil the statue.
The plaza will honor Summitt's stellar career, in which her teams won a record 1,098 games and eight NCAA Championships, and the unparalleled contributions she has made to women's athletics and the state of Tennessee. Summitt, who died in June 2016, was born in Clarksville and grew up on a farm in southern Montgomery County.
A prime objective of the Summitt Legacy Plaza project is to honor her locally and acquaint local citizens and the world with her connections to the Clarksville/Montgomery County community.
The event is being coordinated by the Clarksville Parks & Recreation and Visit Clarksville.