Austin Peay State University (APSU)

Clarksville, TN – Austin Peay State University – Waking up at a new time, making it to class, eating enough breakfast, not eating too much lunch – the life of a college freshman can get a bit daunting. After about 18 years of guidance from parents and teachers, these young men and women now have to grapple with their sudden freedom while plotting out the rest of their lives.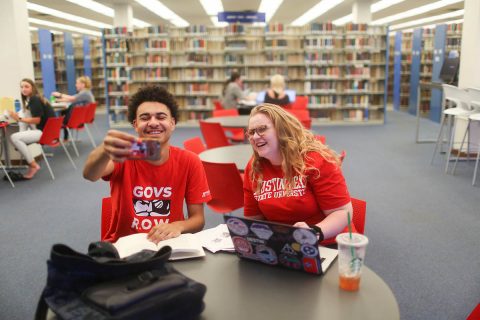 At Austin Peay State University, nearly 2,000 freshmen face these challenges each fall, with most people not realizing the struggles and successes they experience daily.
This year, you can follow the ups and downs of freshman life as two first-year students regularly share their stories on the Austin Peay channel of InstagramTV.
Meet Derek Nicholson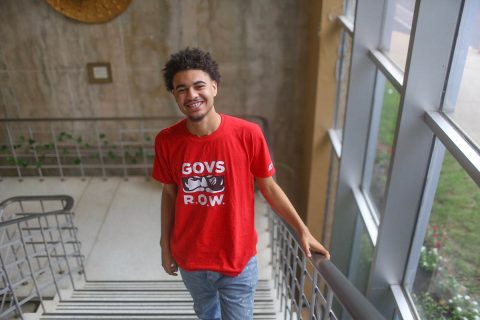 'I just wanted a new chance'
Growing up in a Nashville public housing complex, Derek often saw only two choices in life – sports or the street.
"I'm from the projects, and those are the two options," he said.
But while in high school, Derek decided not to let his address define his destiny. Through Opportunity Now, a Nashville youth employment initiative, he landed a marketing internship with Goodwill Industries. That job led to a spot on the Mayor's Youth Council, and over the summer, he earned a communication internship with Metro Public Works and he became a youth financial coach with First Tennessee Bank.
But even with this success, he knew he needed a college degree.
"I had already had all the jobs you can basically get without a college degree, working fast food, working retail," he said. "I just wanted a new chance."
Derek looked at other schools like Middle Tennessee, but the size of that university didn't appeal to him.
"I felt like there were more opportunities for me to grow and more opportunities for me to stand out at Austin Peay," he said.
So in August, with the goal of one day owning his own marketing firm, Derek packed his room and moved 40 miles north to Clarksville. He's had a few challenges, such as figuring out online assignments and navigating the freedom his professors provide, but he admits he's already found a home on campus.
"For me, just being here," he said. "I feel like I got a new start on life. I don't feel depressed anymore. I feel happy every day."
Meet Janesa Wine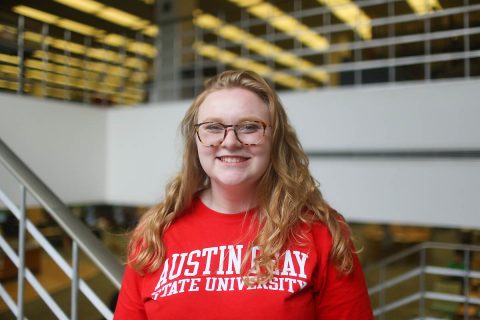 'A whole new chapter'
Janesa is a Dickson County High School graduate studying nursing at Austin Peay.
"Since seventh grade, I've had this idea I was going to be a medical laboratory technician, but last year, as a senior, I had an opportunity to be in a nursing education class at Dickson, and I got my CNA license (certified nursing assistant)," Janesa said. "I fell in love with it, and that's why I decided to pursue nursing."
Her biggest challenge her freshman year is being her own guide on the workload.
"It's very different because you don't have teachers telling you constantly, 'You have this due, you have this due, you have this due,'" Janesa said. "You're by yourself now, so you don't have the constant teacher or parental reminder to get it done."
Also getting to meet new friends reminds Janesa of her freshman year in high school, which she entered after being homeschooled.
"It's been interesting for me to go into class and have to introduce myself to people again," she said. "It's like starting all over, like freshman year in high school for me."
But she's excited about finishing her first semester, attending her first home football game, taking her first final exams.
"There are going to be times I feel that are going to be really stressful, and there are going to be times that are very exciting.
"This is a whole new chapter for us."
To watch their stories, visit (link). The Austin Peay State University Alumni Relations Office will also follow a couple of freshman during their first year. Those videos will be posted on the office's Facebook page, www.facebook.com/APSUAlumni