Austin Peay State University Sports Information

Knoxville, TN – Timo Kiesslich and Jacob Lorino paced Austin Peay State University men's tennis team on the first day of the ITA Ohio Valley Regionals, Thursday, at the Goodfriend Tennis Center and Knoxville Racquet Club.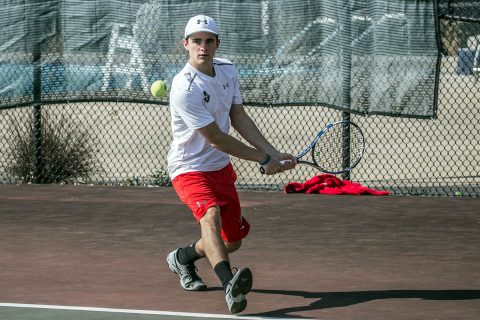 Kiesslich and Lorino defeated Lope Adelakun and Ryan Roegner of Butler in a tiebreaker to advance to tomorrow's second round.
The duo won the tiebreaker 8-6 after being knotted up at 7-7 in the one and only set.
Freshman Anton Damberg pushed Kentucky's Arthur Chen, but fell in three sets and was the closest Gov to possibly advance to the second round.
Damberg teamed with first-team All-OVC honoree a year ago Almantas Ozelis, but the duo got a tough draw and faced off against the tournament's No. 1 seed in Cameron Klinger and Billy Rowe, falling 8-4.
Kiesslich, Lorino, and the rest of the team resume play Friday morning. Make sure to follow Austin Peay State University men's tennis @AustinPeayMTN for all updates on the team.
Results
Doubles Main Draw
Timo Kiesslich/Jacob Lorino (APSU) def. Lope Adelakun/Ryan Roegner (BUT) 8-7(6)
#1 Cameron Klinger/Billy Rowe (VANDY) def. Almantas Ozelis/Anton Damberg 8-4
Jan Palleres/Jeremy Taylor (Memphis) def. Christian Edison/Oliver Andersson (APSU) 8-6
Singles Main Draw
No. 3 Antonio Cembellin (Indiana) def. Jacob Lorino (APSU) 6-2, 6-1
Arthur Chen (UK) def. Anton Damberg (APSU) 6-3, 4-6, 7-6(4)
Cesar Bourgois (UK) def. Timo Kiesslich (APSU) 6-1, 6-0
Andrew Redding (IU) def. Christian Edison (APSU) 6-3, 6-4
Marko Guzina (Ball State) def. Almantas Ozelis (APSU) 6-3, 6-4
Jack Dykema (Xavier) def. Oliver Andersson (APSU) 6-2, 6-0