APSU Sports Information

Martin, TN – Austin Peay State University (APSU) women's soccer team suffered a defeat at the hands of league-leading UT Martin, Sunday, at Skyhawk Field.
The Govs (8-7-1, 3-5-1 OVC) knew they were up for a challenge as they played the league-leading Skyhawks (12-2-1, 7-0-1 OVC), but unfortunately got off to the worst possible start.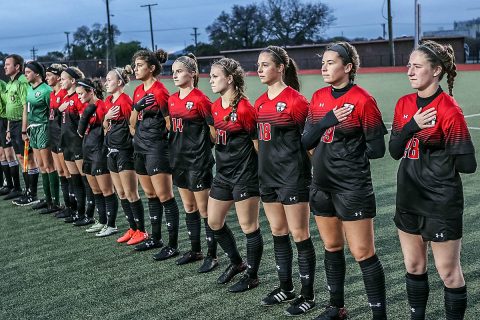 A defensive error let UT Martin in on goal and Skylor Keane scored after just 21 seconds.
The Skyhawks doubled their advantage in the 11th minute after Alice Adams scored. The Govs had shots from Claire Larose and Renee Semaan prior to Adams's goal, but they went wide.
Things didn't get much better for the Govs as the Skyhawks added another just six minutes later through an Amy McGivern shot. Possibly shocked by the first 17 minutes, the two teams did not have a whole lot of chances throughout the rest of the half, with UT Martin holding a 3-0 lead at the break.
McGivern added her second of the game just five minutes into the second half and then completed her hat-trick later on via a penalty kick.
The Govs have one more game left this season at least, a critical Ohio Valley Conference matchup on the road next Sunday, October 21st at Southeast Missouri.
APSU Notably
The Govs had an unchanged lineup for only the second time this season
The five goals are the most Govs have allowed this season
The Govs are 5-11-2 all-time now against the Skyhawks
The Govs are now 7th in the OVC Standings
Naomi Kolarova's Thoughts
"It's hard to bounce back anytime you concede a goal so early in a game, let alone three in the first q5 minutes. Once we settled we actually had some moments where we looked dangerous, but we dug ourselves too deep of a hole to get out of today. Martin were by far the best we have faced in the OVC. They combined really well on and off the ball to open us up. They also simply beat us to loose balls in the box and took advantage of our defensive mistakes.
"Obviously I am disappointed with the score, but we have to learn to continue fighting, playing smarter in possession, and reducing our mistakes in the back third of the field."