Austin Peay State University (APSU)

Clarksville, TN – Last Friday morning, Dr. Alisa White, Austin Peay State University president, told several community leaders that she is proud of the University's record enrollment of 10,954 students and Austin Peay's position as the fastest-growing university in Tennessee.
The mid-term goal is to reach 13,000 students with an eventual steady enrollment state of 15,000 students.
"The reason we're going to grow is because there is more opportunity in Clarksville and Montgomery County than just about anywhere else in the state," she said. "I've never seen the opportunities all at one time, all in one place, with economic development, with leaders interested in moving forward significantly."
White isn't the only one who believes the area's leaders are interested in moving forward together. That morning, she hosted Clarksville Mayor Joe Pitts, Montgomery County Mayor Jim Durrett, city council members, county commissioners and APSU administrators and academic deans for an APSU, Clarksville, Montgomery County Partnership meeting.
During the event, the community's top leaders engaged in a conversation about how all three entities can take advantage of the area's current momentum.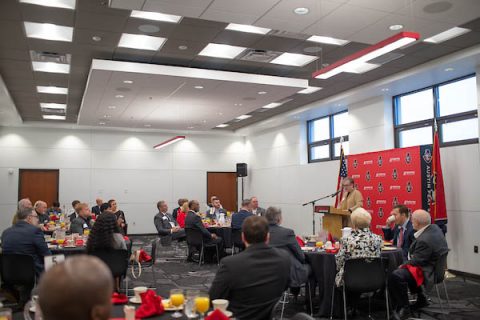 "Our community has never had this much diversity in our leadership ever. Not only in age but in race and in gender, we have never had this before," Durrett said. "I don't think we've ever had people in the leadership positions that we've had that want to sit down at a table and talk about a problem or create something exciting for our community."
One of the key takeaways from Friday's event was the spirit of collaboration. Pitts said it was a priority for the local governments to work with the University over the next four years.
"If you think about Austin Peay, it's right in the center of our city, it's the largest employer of white-collar jobs in our community, so we need to nurture that," he said. "We promise we will collaborate with you and we will communicate with you."
Several topics were discussed during the meeting, including the future of the Vulcan factory property at 1151 College Street Durrett, Pitts and White all agreed that it's an important parcel, with its proximity to Austin Peay State University and the city's legacy neighborhoods, and while it's too early to talk plans or funding, they all have an interest in its development.
The leaders also talked about keeping pedestrians and motorists safe on College Street, with the University's growing enrollment bringing more students to campus.
"The big challenge is Fourth and College streets and realigning Home Avenue because of the offset," Pitts said. "We're talking with the University about a joint project to be able to do that."
The three organizations – Austin Peay State University, the Cit of Clarksville and the Montgomery County Government – plan to host additional partnership meetings in the future.