Austin Peay State University (APSU)

Clarksville, TN – Austin Peay State University (APSU) classics senior Alexander Kee last month finished second in a national Latin translation contest. It was his second straight second-place finish in the annual competition.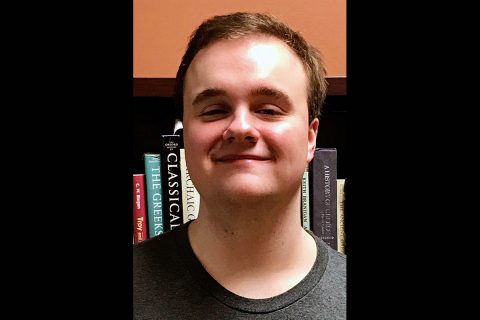 The Maurine Dallas Watkins Sight Translation Contests, hosted by the Eta Sigma Phi Honorary Society for Classical Studies, draw only the most advanced undergraduate classics students from across the country.
Kee took the test earlier this semester and found out about his finish on March 27th.
"I was excited," he said. "You know, it's three hours of good work. You get $75.00 for second place, and that's more than I normally make in three hours of work."
Most of the competition challenges competitors to translate Greek or Latin to English. Kee competed in the Advanced Prose Composition contest, which challenges competitors to translate English to Latin.
"That's different than what you're going to get in most of your upper-level classes," Kee said. "What this requires is a different understanding of the language, it's a different kind of skill."
This year, Kee had to translate an excerpt of Queen Elizabeth I's famous 1588 speech to her troops at Tilbury, where England repelled the Spanish Armada. England's defeat of the armada boosted the queen's prestige. Here's a link to the British Library's webpage about the speech.
Last year, Kee translated a Martin Luther King Jr. speech excerpt.
Kee will graduate next month with a bachelor's in classics and a minor in linguistics. The Rossview High School graduate will attend the University of Massachusetts, Amherst, as a master's candidate in teaching Latin. His current goal is to teach Latin in high school.
"If there's something around here, I'd like to come back," he said.
To Learn More