Marion, IL – Austin Peay State University Baseball left fielder Aaron Campbell hit two home runs and finished with six RBI as Governors opened its 2019 Ohio Valley Conference Baseball Championship run with a dominating 12-2 victory against UT Martin, Wednesday at Rent One Park.
Campbell's impact was felt in Austin Peay's (31-23) first turn at bat. After right fielder Parker Phillips hit a two-out single, center fielder Garrett Spain was hit by a pitch.
Campbell did not waste a pitch, taking the first one he saw over the wall in left for a three-run shot.
UT Martin (25-30) would chip into the lead with single runs in both the second and fourth innings. First baseman Ethan Whitley cut the Govs lead to one run with his solo home run in the fourth.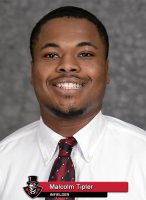 But the Governors scored the game's next nine runs. Second baseman Malcolm Tipler hit a three-run home run in the fourth, extending the APSU lead to 6-2. One inning later, Campbell struck again with a two-run home run to left center and the lead was 8-2.
Austin Peay plated three runs on a trio of consecutive singles in the sixth by Spain, Campbell and catcher David Martinez. Shortstop Garrett Kueber added a RBI single in the seventh to set the final score.
Jacques Pucheu (8-4) was needed for just six innings of work courtesy the Govs offensive outburst. He tied the Austin Peay single-season record for strikeouts (105) with an eight-strikeout outing that saw him scatter two hits and a walk.
Campbell led the Govs with a 3-for-5, six RBI performance while becoming the third APSU hitter with two home runs in an OVC tournament game since 1996.
Tipler was 2-for-3 with three RBI and Phillips went 2-for-4 and scored twice.
UTM starter Winston Cannon (6-9) surrendered eight runs on seven hits and four walk over his five innings.
Whitley's 1-for-4, one RBI outing paced the Skyhawks offense, which was held to four hits.
Moment That Mattered
Austin Peay was on the path to a quick 1-2-3 first inning when the middle of the order stepped up to serve notice the offense would be appearing in the opener. Right fielder Parker Phillips rifled a single through the left side with two outs and center fielder Garrett Spain worked the count full before being hit by a pitch.
Campbell didn't need to see another pitch, hitting a fly ball that left the park in left field for a 3-0 lead.
Water Cooler Chatter
Record Day For Campbell
With his 3-for-5, two-homer, six-RBI outing senior Aaron Campbell broke or tied a trio of Governors OVC Tournament marks. He broke the record for RBI in a tourney game, previoiusly held by 10 Governors and tied two years ago by Parker Phillips (against UT Martin). Campbell also tied the APSU tourney marks for hits and home runs in a game.
K Record Tied
Starting pitcher Jacques Pucheu made quick work of reaching the 100-strikeout plateau, reaching the mark on his seventh batter of the game. He then plowed ahead toward the Govs single-season mark, ultimately tying the record held by Casey Delgado with 105 strikeouts. In addition, Pucheu is the first Govs pitcher with two 100-strikeout seasons and ended the night with 243 career strikeouts, fourth-most in program history.
Next Up For APSU Baseball

APSU Baseball advances in the winner's bracket and will face Eastern Kentucky in a 3:00pm, Thursday, May 23rd contest at Rent One Park. The Governors are scheduled to send lefty Josh Rye (7-3, 3.86 ERA) to the mound against Colonels right-hander Jacob Ferris (6-3, 5.63 ERA).